A 100 gram serving of strawberries is under 6 grams of net carbs.
When summer rolls around, the first thing that pops into my head is fresh strawberries. I love them on their own, in strawberry shortcake, in smoothies and even in salads.
Berries are a popular choice for people watching their carb intake.  Out of all the berries, strawberries have the least amount of carbs.
Are Strawberries Keto Friendly?    
Strawberries can be eaten in small amounts on a ketogenic low-carb diet.  At around 5.5 grams of net carbs per 3/4 cup (100g) serving, strawberries are a decent fruit choice for the Keto diet.
As long as you measure the net carbs you consume, strawberries can easily fit into your diet without slowing your progress.  Strawberries are an excellent source of potassium and vitamin C.  They also contain about 92% water volume, which makes them very hydrating and refreshing!
Origin
The garden strawberry is a widely grown hybrid species of the genus Fragaria, which is cultivated worldwide for its fruit. This crop is appreciated far and wide for its characteristic aroma, along with the juiciness and sweetness of its bright red fruit. 
Interesting Facts About Strawberries
Strawberries are the first fruit to ripen in the springtime.
An average strawberry contains roughly 200 seeds, which can grow into new strawberry plants.
Ancient romans believed strawberries had healing powers.  They were used to treat colds, fever, sore throat, and even depression!
There is a Strawberry Museum dedicated to the strawberry in Belgium. 
Strawberries are considered members of the rose family.  Like rose bushes, strawberry bushes give off a sweet scent.
Calories, Carbs & Fiber in Strawberries
One cup of strawberries contains only 49 calories, 3 grams of fiber and only 12 grams of carbs.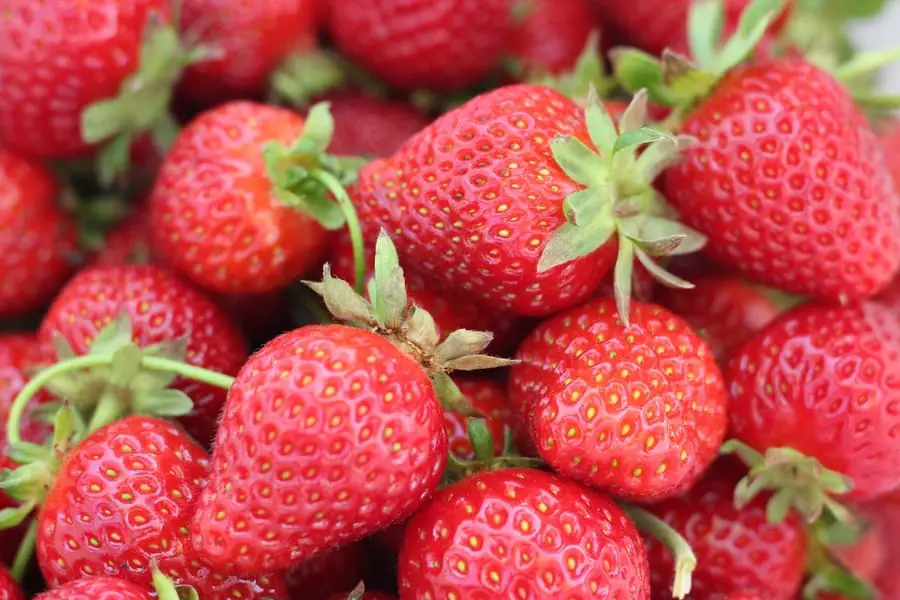 To determine net carbs, deduct the fiber amount in grams from the carbohydrate amount in grams, resulting in a total of only 9 grams of net carbs. Strawberries have more insoluble fiber than soluble fiber and they have a low glycemic index of 40.
Health Benefits of Strawberries
Strawberries share many of the same health benefits that other berries deliver.
Strawberries have also been found to stabilize blood sugar levels and reduce insulin levels.  This suggests that the combination of consuming strawberries and following the keto diet may have particularly positive effects for individuals with insulin resistance and diabetes.
As a great source of fiber, vitamin C and several antioxidants, strawberries  can benefit your health in a number of ways. Strawberries improve immune function and lower blood pressure.  They can even be eaten to treat arthritis and gout. 
These amazing berries also help protect the body against various forms of cancer.  In addition, strawberries promote healthy eye sight, regulate blood sugar levels and lower the risk of stroke.
Different Types of Strawberries
There are three main types of strawberries: June-bearing, overbearing, and day neutral.  Within these three types are a number of varieties:
Honeoye are June-bearing, early season producers and grow large, firm, bright orangy-red fruit. 
Earliglow sets and ripens sooner than every other strawberry variety available. 
Allstar have a perfect strawberry shape and glossy red appearance. This crop also has good firmness, making it preferred by gardeners far and wide.  It also produces extra large berries.
Ozark Beauty yields exceptionally large strawberries that are extra sweet.
Chandler are another popular, June-bearing strawberry. 
Jewel are well-known as a good variety for both cultivating and easy shipping due to its firmness and bruise-resistant skin. 
Seascape is an everbearing strawberry variety that was initially developed for the California strawberry industry as a variety immune to viral diseases that are common there.
Tristar is a day-neutral strawberry variety that is perfect for both fresh eating and freezing.  The berries are bright red, firm, and sweet with no hollow cores.  They are conical in shape but only reach medium-size.  
Sparkle are a classic favorite and have been a popular strawberry variety for over 6 decades  It is widely considered the best strawberry variety for jam-making.
Surecrop are the best bet for producing lot of berries per crop. Compared to all other June-bearers, the fruit is high yeild, medium in size and fairly firm.   
Fort Laramie are everbearers with the potential to produce very large berries that are bright scarlet on the outside and vibrant pink on the inside.  This variety will produce blooms, berries, and runners all at the same time.
Ways to Enjoy Strawberries on Keto
Whether on their own, in a salad, in a smoothie or a dessert, strawberries can be enjoyed a number of ways.
Strawberries (as well as other berries; like blueberries, raspberries, and blackberries) are the best fruit options for low carb keto diets as they are lower in sugar. Pairing a few berries with crushed nuts and feta cheese will take your salads to the next level.
If you'd like to try some keto-friendly strawberry recipes, check out the following delicious low carb options:
Low Carb Strawberry Shortcake
This recipe uses low carb angel food cake.  If you prefer your shortcake on a biscuit, prepare your favorite recipe low carb, by substituting the flour for almond or coconut flower.  Substitute any sugar the recipe calls for with a natural sugar-free sweetener, like Swerve or Stevia.
Ingredients:
12 egg whites
2 teaspoons cream of tartar 
¾ cups Swerve Confectioner's Sugar 
5 drops of Stevia
¾ cups almond flour 
¼ cup almond flower
1 teaspoon vanilla extract
 Instructions:
Preheat oven to 350 degrees F.
Mix almond flour, tapioca flour together, swerve. Sift. Add lemon zest. Set aside.
Separate egg whites.
Once you have all your egg whites in mixing bowl, beat until frothy. Then add cream of tartar.
Half way through add the Swerve (sugar if you want to).
At this point, add in vanilla, almond extract, and stevia.
Continue beating on high until soft peaks form. (You don't want stiff peaks.)
Fold in dry ingredients in three batches.
Pour batter in unsprayed cake pan and smooth out.
Bake for 50 minutes until golden brown.
Once you take out of the oven, do not touch the cake or it will collapse.
Immediately turn it over.
Wait until it's completely cool to turn back over.
Cut with fork or serrated knife.
Whip heavy cream with an immersion/hand blender until it thickens and becomes whipped cream.  Sweeten the cream while mixing with a dash of stevia and add a splash of vanilla.
Top with fresh sliced strawberries and enjoy!
Keto Strawberry Shake
Blend:
1 1/2 Cups of unsweetened almond milk
5 Frozen Strawberries
1 Tablespoon of Chia Seeds
1 Tablespoon of Heavy Cream
2 Teaspoons of Vanilla extract
2 Teaspoons of Stevia or sweetener of choice
Handful of ice cubes
Keto Fruit 'n' Nut Salad
Ingredients:
1 cup of baby field greens
2 large thinly-sliced strawberries
1 tablespoon sliced almonds
A few chunks of feta cheese, crumbled
Low sugar salad dressing of choice. 
Instructions:
Toss salad ingredients in a large bowl. 
Top with crumbled feta cheese and low sugar dressing of choice.  (I recommend poppy seed or Dijon, although an olive oil and balsamic vinegar combo works nicely, too.) Enjoy!
Keto Yogurt Breakfast Parfait
Ingredients:
Half cup of Greek yogurt
100 grams of Strawberries, sliced
2 Tablespoons Chia seeds
Natural sugar free sweetener (optional)
Instructions:
In a sundae dish, layer a spoonful of Greek yogurt with a few sliced strawberries and chia seeds.  (You can add in other berries as well, just make sure you stick to a 100 grams for the total serving).
Repeat layers until dish is full. 
Garnish with a whole strawberry and a mint leaf for a healthy way to start your day.