Are you a big fan of potato chips like I am? Good news: You don't have to give up your favorite snacks while following a low carb diet.  Quest Protein Chips are gluten-free, baked, and only 2 net carbs per bag.  They make the perfect crunchy treat when you're trying to cut back on carbs.
Whether you're following a low carb diet or a calorie reduction plan, these salty and savory chips are the way to go when you're craving that crunch. They truly are a great junk food alternative! Plus, they come in a wide variety of flavors to enjoy as part of a healthy, balanced diet. They make a great snack on their own or as a crunchy side for your lunch.  I personally love to crumble a few Quest nacho cheese tortilla chips over a taco salad for a little added crunch.
Unlike potato chips, these chips have enough protein to satisfy hunger. With 19 grams of protein, these chips can help keep you feeling satiated, so that you're less likely to overeat or snack between meals.  Studies show that a diet high in protein helps lower blood pressure and fights diabetes.  What's more, a high-protein diet can help you lose weight and shed belly fat, while increasing your muscle mass and strength. 
So how do these chips stack up nutritionally?  Are they good for you?  Let's investigate a little deeper into Quest Protein Chips…
Are Quest Protein Chips Keto Friendly?
Quest Keto Chips contain less than 1 gram of sugar which makes them a perfect low-carb snack for folks following the Ketogenic diet.  With only 4 grams of net carbs per bag, they make a great substitute for high carb chips.  They also pack 19 grams of protein and a gram of fiber to help keep you feeling full, so you're likely to eat less throughout the day.  
With that being said, these chips could definitely use some extra fat content. The days of fearing fat are over and it would greatly help their flavor profile, along with the energy and satiety they provide.
How Many Carbs are in Quest Protein Chips?
Quest Keto Chips range from 2 to 4 grams of net carbs per bag, depending on the flavor.  Because these chips taste so great, it's easy to overindulge. Try not to exceed the recommended portion size, which is 1 small 32-gram bag to avoid exceeding your carb limit.
How Many Calories are in Quest Protein Chips? 
There are 130 to 140 calories in a bag of Quest Protein Chips, depending on the flavor.  Eating these chips with dip or topped with cheese, salsa, or sour cream adds additional calories.  If you choose to eat Quest Protein Chips with any of these accoutrements, be sure to account for the extra calories.
Nutrition Facts
| | |
| --- | --- |
| Serving Size: 1 bag of Quest Keto Chips (32 grams) |   |
| Calories 140 |   |
| Total Fat 5 grams | 6% |
| Saturated Fat 0.5 grams | 3% |
| Trans Fat 0 grams | 0% |
| Cholesterol 10 milligrams | 3% |
| Dietary Fiber 1 gram | 4% |
| Total Sugars <1 gram | 0% |
| Protein 19 grams | 38% |
| Total Carbohydrate 5 grams | 2% |
| Sodium 340 milligrams | 15% |
| Calcium 170 milligrams | 15% |
| Iron 0.3 milligrams | 2% |
Ingredients:
Protein Blend (Milk Protein Isolate, Whey Protein Isolate), High Oleic Sunflower Oil, Calcium Caseinate, Corn Starch, Natural Flavors, Psyllium Husk, Salt. Contains less than 2% of the following: Soluble Corn Fiber, Sour Cream (Cream, Non-Fat Milk, Cultures), Cheddar Cheese Powder (Cultured Milk, Salt, Enzymes), Buttermilk Powder, Onion Powder, Tomato Powder, Garlic Powder, Green Bell Pepper, Paprika, Spice, Chia Seed, Yeast, Turmeric Oleoresin (Color), Paprika Extract (Color), Acacia Gum, Sunflower Lecithin, Calcium Carbonate, Yeast Extract, and Steviol Glycosides (Stevia).
Types of Quest Protein Chips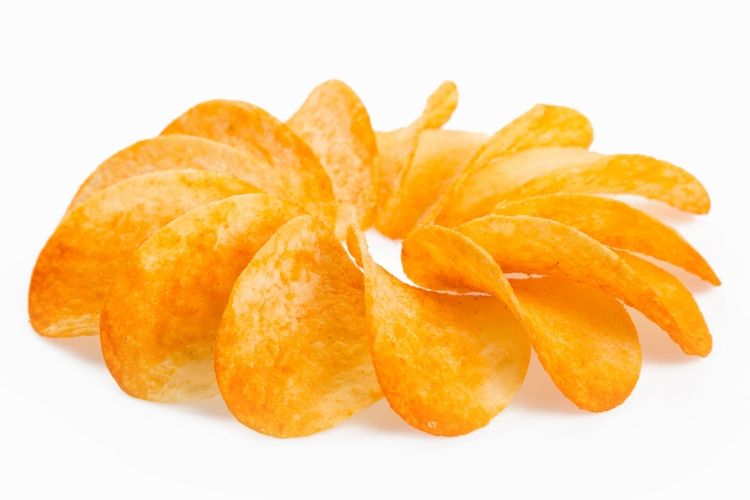 Quest Keto Chips are available in the following flavors:
Loaded Taco
Chili Lime
Nacho Cheese
BBQ
Cheddar & Sour Cream
Sour Cream & Onion
More Great Keto-Friendly Chips
Quest Protein Chips aren't the only choice for low carb dieters.  If you're following Keto, here are some additional low carb snacks to try: 
Mac's Pork Rinds
Whisps Parmesan Cheese Crisps
Parm Crisps Jalapeno Cheese Crisps
Keto Carne beef jerky
Low Carb Nuts (Pecans, Macadamia Nuts, Brazil Nuts, Walnuts and Hazelnuts)
Hippie Snacks Cauliflower Chips
Hippie Snack Sea Salt Avocado Crisps
Whisps Bacon Barbeque Cheese Crisps
F-Bomb Keto Crunch Cheddar Cheese Chips
LesserEvil Paleo Puffs
Related Questions:
What is the Price of Quest Protein Chips?
A 12-pack of Quest Protein Chips will run you $24.99 on the Quest web site, which breaks down to $2.08 per bag. An 8-pack is also available, which is advertised for $16.75. You can purchase Quest Keto Chips at other online stores like Amazon and at select grocery stores; however, prices may vary by store.
Are Quest Protein Chips Good for Weight Loss?
Quest Chips are low in calories, fat and carbs, yet high in protein.  These chips give you the same satisfaction of eating potato chips.  The 19 grams of protein contained in each bag will satiate you a lot more than eating regular potato chips. 
Are Quest Protein Chips Healthy?
Quest chips are baked using high oleic sunflower oil which is unsaturated fat that is free of trans fat. The type of monounsaturated fat in high oleic oil has been shown to lower LDL cholesterol (the bad kind) without lowering HDL cholesterol (the good kind).
A bag of Quest Protein Chips contains 340 milligrams of sodium, however, which is substantially higher than regular potato chips.  This is probably to make up for taste as the product contains less than a gram of sugar.  To compare, a bag of Humpty Dumpty Potato Chips contains only 270 milligrams and a bag of Lays chips contains only 170 milligrams of sodium. 
Quest chips contain Stevia as the last item on their ingredient list.  Stevia is often touted as a safe and healthy sugar substitute that can sweeten up foods without the negative health effects linked to refined sugar.  In fact, Stevia is associated with reduced calorie intake, blood sugar levels, and risk of cavities.
Are Quest Protein Chips Good for Diabetics?
Quest Protein Chips are high in protein and low in sugar, so they are a safe snack to enjoy as part of a diabetic-friendly diet.  Because these chips contain less than a gram of sugar, they are lower on the glycemic index than regular potato chips which contain a few grams of sugar, potato or wheat flour, and significantly more carbs.
These chips also use soluble corn flour in their recipe instead of wheat flour.  Corn flour does not spike blood sugar like wheat flour does because corn contains resistant starch that helps slow the digestion of carbohydrates.  Furthermore, foods that are high in protein also help to stabilize blood sugar and prevent spikes in blood glucose.
Are Quest Protein Chips Gluten-Free?
Quest Keto Chips do not contain wheat.  They are gluten-free, potato-free, and soy-free.  However, they contain do milk processed in a facility that also processes wheat.
Are Quest Protein Chips Safe to Eat During Pregnancy?
All of Quest's products, including Quest Keto Chips, are safe for all stages of pregnancy.  In fact, women need more protein than normal when they're pregnant.  Because a bag of Quest chips contains 19 grams of protein, it can help you meet your daily requirements of this nutrient.  Experts recommend 75 to 100 grams of protein per day.
Protein assists in the growth of fetal tissue, including the brain and increases blood supply.  Additionally, protein helps the breast and uterine tissue to grow during pregnancy.