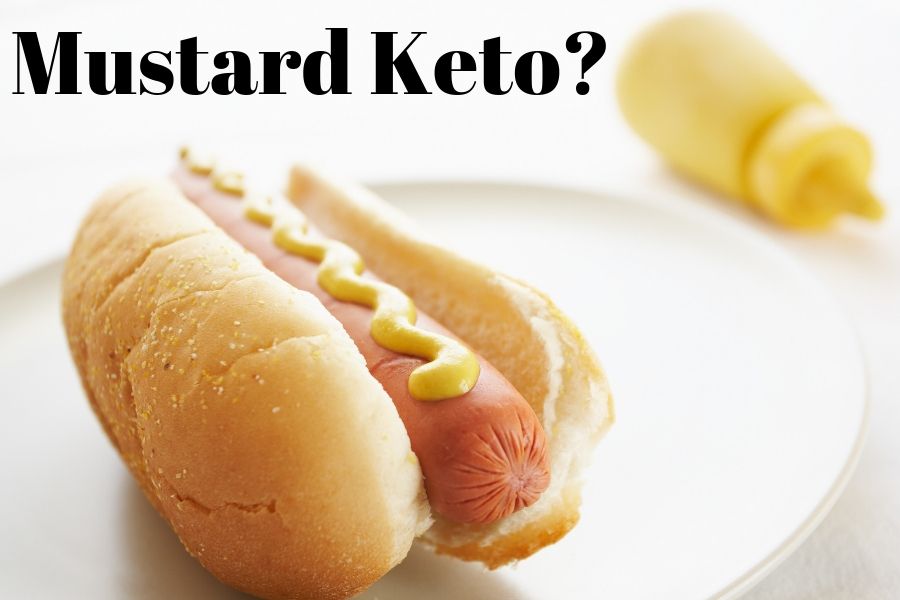 Most mustards, with the exception of honey mustard, are sugar-free.  Great news for Keto dieters!
If mustard, ketchup and mayonnaise were to compete in a contest for the prize of best Keto condiment, mustard would win the gold medal.  Ketchup is full of sugar and mayo is full of fat; but mighty yellow mustard contains no significant amounts of sugar or fat. Mustard is a superstar sauce for low carb diets, like Keto.
Mustard makes the perfect low-calorie alternative to many high calorie condiments.  Just be sure to double-check your product labels as some mustard brands could sneak in sweeteners and trace amounts of fat.  
Traditional yellow mustard and Dijon mustard are carb-free, however some honey mustard brands could contain up to 10 grams of carbs. 
How Many Carbs are in Mustard?
Fresh Mustard:  One teaspoon of fresh mustard contains 0.3 grams of carbs.
Dried Mustard:  One teaspoon of dried mustard contains 0.6 grams of carbs.
Dijon Mustard:  One teaspoon of Dijon mustard contains 0.3 grams of carbs.
Honey Mustard:  One teaspoon of Honey Mustard contains 1.2 grams of carbs.
How Many Calories are in Mustard?
Fresh Mustard:  One teaspoon of fresh mustard contains only 3 calories.
Dried Mustard:  One teaspoon of dried mustard contains 10 calories.
Dijon Mustard:  One teaspoon of Dijon mustard contains 3.1 calories.
Honey Mustard:  One teaspoon of Honey mustard contains 23 calories.
Mustard Scientific Name
The scientific name of field mustard is Brassica rapa subsp oleifera.
The scientific name of brown mustard is Brassica juncea.
The scientific name of black mustard is Brassica nigra.
Popular Mustard Brands
French's Yellow Mustard
Heinz Mustard
Keen's Mustard
Colman's Mustard
Grey Poupon Dijon Mustard (Kraft)
Plochman's Mustard
Kraft Honey Mustard
Ingredients
Traditional yellow mustard is a popular condiment made from the seeds of the mustard plant. The mustard seeds are ground down and then mixed with water, vinegar, lemon juice, wine, or other liquids, salt, and often other flavorings and spices. The result is a yellow to brown colored paste or sauce.
French's brand mustard contains only a few simple ingredients:  Distilled vinegar, water, mustard seed, salt, turmeric, paprika, natural flavors and garlic powder.
Nutrition Facts
Serving Size:  1 Teaspoon or 1 packet (5 grams)
Calories 3
Total Fat 0.2 grams
0%
Saturated fat 0 grams
0%
Polyunsaturated fat 0 grams
Monounsaturated fat 0.1 grams
Trans fat 0 grams
Cholesterol 0 milligrams
0%
Sodium 56.8 milligrams
2%
Potassium 6.9 milligrams
0%
Total Carbohydrate 0.3 grams
0%
Dietary fiber 0.2 grams
0%
Sugar 0 grams
Protein 0.2 grams
0%
| | | | |
| --- | --- | --- | --- |
| Vitamin A | 0% | Vitamin C | 0% |
| Calcium | 0% | Iron | 0% |
| Vitamin D | 0% | Vitamin B-6 | 0% |
| Cobalamin | 0% | Magnesium | 0% |
Health Benefits (Mustard Seeds)
Mustard is typically consumed in small amounts as a condiment, and therefore it doesn't provide any significant health benefits.  However, mustard seeds are rich in calcium, manganese, omega 3 fatty acids, iron, zinc, protein and dietary fiber.  Mustard seeds assist in digestion and increase the metabolism rate of your body.  These special, little seeds may even help treat some health conditions, like Asthma.  
The minerals selenium and magnesium contained in mustard seeds help prevent cancer, and manage symptoms of asthma and arthritis. Mustard seeds can help a poor appetite if eaten before a meal.  These trace minerals also help reduce high blood pressure.
Mustard seeds have been around for thousands of years and are known to have wonderful health benefits.  These seeds even have antibacterial and antiseptic properties.  They're rich in selenium, which has anti-inflammatory qualities and they're a great source of magnesium. 
Mustard seeds help to reduce the symptoms of asthma attacks and rheumatoid arthritis.  They also provide relief from headaches and various types of migraines. 
Side Effects
Mustard is recognized as safe by the United States Food and Drug Administration when consumed in normal food amounts. However, if you use mustard for medicinal uses, you should exercise caution.
Applying white or black mustard topically to the skin for an extended period of time can cause burns, blisters, or ulcers.  Consuming large amounts of black mustard seed by mouth can damage the throat and cause side effects including heart failure, diarrhea, drowsiness, breathing difficulties, coma, and even death.
Mustard and mustard seed allergies are common among the general public.  Mustard leaves, seeds and flowers, sprouted mustard seeds, mustard oil are likely to cause reactions in people with a mustard allergy.
Allergic reactions to mustard may be mild or severe and generally arise immediately after consuming the mustard product.  If you have an allergy to mustard, you may experience a rash or a tingly, itchy sensation in the mouth. Difficulty breathing is another common symptom of mustard allergy. 
Medicinal Uses
Mustard seeds are used for the treatment of various illnesses.  It is believed that taking mustard medicinally may help alleviate conditions like asthma.
White mustard seed can be used to clear the voice, increase urination, prevent infection, or boost appetite.
Black mustard seed can be used to treat the common cold, reduce joint and muscle pain, and alleviate arthritis symptoms.
Cosmetically, mustard seeds can be used for healthier hair, skin, and nails.
Currently, there is not enough scientific evidence to support any of these medicinal or cosmetic claims, however, people continue to use mustard or mustard seed as a folk medicine remedy.
Fiber in Mustard
There are 0.2 grams of fiber in a teaspoon of mustard.
Sugar in Mustard
Most mustards, with the exception of honey mustard, are sugar-free.  However, some brands may sneak in added sweetener, so be sure to check the product label to be sure.
Related Questions:
Is Mustard Gluten-Free?
All of French's prepared mustards are gluten-free except for French's Tangy Sweet & Smooth BBQ Mustard, which contains gluten.
Is Mustard Vegan?
Although honey mustard and Dijon mustard may contain animal products, traditional yellow mustard is typically vegan. The ingredients like vinegar, salt, spices, and mustard seeds are all vegan.  Even the thickener, xanthan gum that is sometimes used in mustard is plant-based.  If you're unsure, just double-check the product label to ensure it doesn't contain animal products.
Is Mustard Oil Safe to Use in Cooking?
The use of mustard oil is controversial in North America.  The potential risks are considered so serious that the United States Food and Drug Administration (USFDA) has prohibited its use in cooking.  All mustard oil in the United States is required to be labeled "For External Use Only".  This oil can only be used externally and it is believed to have benefits for the skin, hair and nails.
With that being said, Asians and East Indians have long used mustard oil in their cooking.  The oil's pungent flavor comes from a compound also found in horseradish and wasabi.  Although mustard oil comes from the seeds of mustard plants and contains healthy monounsaturated fatty acids, cooking with the oil long-term can pose serious health risks.
The reason mustard oil is dangerous is due to its high levels of erucic acid.  This monounsaturated fatty acid is found in various types of oil. In small doses, erucic acid is usually safe, but higher amounts can be dangerous.  High doses of erucic acid in high levels could pose risks to certain groups, like geriatric adults and young children. 
Research in mice indicates that consuming erucic acid over a long term period may cause heart condition, Myocardial Lipidosis.  It is unknown whether humans experience this response. 
The USFA issued a warning in 2016 to the public stating that mustard oil is not permitted for use in cooking or as an additive to food products.