On Keto? And you madly miss munching on crackers or dipping them in your favorite cheese dip. You are not alone! Many low-carb dieters are on the hunt for low-carb crackers to satisfy their salty snack cravings or to keep them full until their next meal.
The good news is that there are some excellent low-carb keto cracker options available. Some of them may surprise you with how delicious they are!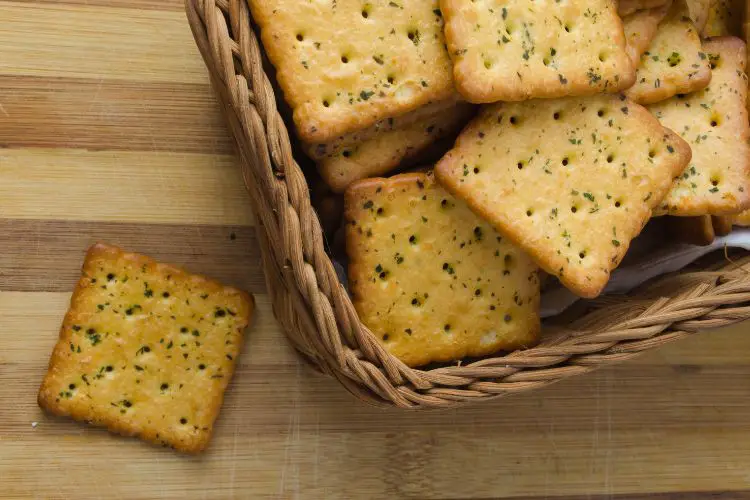 This guide will explain why you can't eat regular crackers while on a keto or paleo diet, and it will give you 3 homemade keto cracker recipes with simple ingredients and easy instructions.
Why Crackers are not Healthy?
To be honest, traditional crackers are nothing more than small squares or circles of processed grains and flour. They may contain some nutrition, but they are mostly highly processed and inflammatory.
Most crackers are baked and contain inexpensive ingredients like enriched flour and vegetable oil. They also have sugar and a lot of salt in them to improve the flavor and extend the shelf life.
What are Keto Crackers?
Keto-friendly crackers are a great way to add crunch and flavor to any snacking experience without all the carbs that come with regular crackers. Most keto diet-friendly crackers are made using nut flours or coconut flour combined with some seeds, meaning they have a lower net carb content per serving than regular wheat flour-based crackers.
Almond flour has the added benefit of being high in protein while still being low in carbs per serving. Coconut flour can also be used to make keto crackers, but it has a slightly higher net carb content. Cream cheese makes a great binding ingredient and is also low in carbs.
Almond Flour Crackers- Keto Recipe
You don't need fancy kitchen gadgets to prepare these crispy crackers. Just grab simple ingredients out of your kitchen cabinet and easily prepare your low-carb keto crackers.
This is a perfect keto cracker to replace the renowned, sweet Graham crackers.
Ingredients
1/2 cup almond flour
1/2 cup coconut flour
Seasoning (see recipe tips)
Cheese to taste (see recipe tips)
Directions
Preheat oven to 350 degrees Fahrenheit. Line a baking sheet with parchment paper and set aside.
In a large bowl, combine almond flour, coconut flour, cream cheese, and seasonings such as sea salt, garlic powder, onion powder, poppy seeds, sesame seeds, black pepper, etc. Mix until everything is combined and crumbly. If the mixture feels too dry, add a tablespoon of olive oil or water to help it come together.
Roll out the dough on a cutting board or large piece of parchment paper. Use a rolling pin to make sure the dough is even and thin. Cut out cracker shapes with a pizza cutter or sharp knife.
Sprinkle shredded cheese, like cheddar, mozzarella, or Parmesan over the cutouts for an extra cheesy flavor (optional).
Transfer the cutouts to the prepared baking sheet, making sure there is parchment paper on top of them.
Bake for 15-20 minutes, until golden brown and crispy.
Allow to cool before serving.
Store in an airtight container for up to 5 days
Recipe Tips
My favorite seasoning includes coarse pink salt, freshly grated black pepper ,garlic powder, onion powder, poppy seeds or sesame seeds.
You can replace the cheese with 1 egg and 1 tablespoon of melted coconut oil. 
To Freeze: Place crackers in a ziploc bag and store in the freezer for up to 2 months. Defrost overnight in the refrigerator and reheat in the oven once thawed out.
To Crisp up: If crackers are refrigerated or frozen, it's best for you to reheat them in the oven to crisp up again.
Nutrition Facts
Per Serving (1 cracker): Total Fat 10g; Total Carbohydrates 4 g; Fiber 2 g; Net Carbs 2 g; Protein 5 g; Calories 121kcal; Calcium 50 mg; Sodium 161 mg; Potassium 11 mg; Vitamin A 95IU.
Keto Cheese Crackers
This basic cheese cracker is very popular. It is sugar-free, gluten-free, and grain-free. It works well with almost any flavor or seasoning you can imagine, and you can dip it in sour cream or any other dip.
Ingredients
You are the chef—one of the easiest seasoning combinations is freshly grated black pepper, oregano, thyme, and coarse pink salt.
Cheddar cheese is one of the best options for this recipe.
Directions
Place the cheese slices on parchment paper and sprinkle them with your seasonings.
Bake them in the oven at 350°F for 20 to 25 minutes.
Nutrition Serving
1-ounce serving includes: 110 calories; 9 grams of fat, 1 gram of net carbs, and 7 grams of protein. 
Parmesan Chia Seed Crackers
Who's ready for something extraordinary? These crackers are made with ingredients you may not expect to see in a cracker. They are sugar-free, gluten-free, and dairy-free!
Ingredients
Chia seeds, sunflower seeds, parmesan cheese, egg, butter, garlic powder, and sea salt.
Instructions
Grind the sunflower and chia seeds.
Combine the remaining ingredients until they form a dough-like consistency.
Roll the dough out onto parchment paper, cut it into squares, and bake at 300°F for 40 to 45 minutes.
Nutrition Serving
4 crackers contain: 18 grams of fat, 2 grams of net carbs, and 8 grams of protein, 2 grams of net carbs. 
Not only do they have a heavenly taste, but they're also packed with nutrients.
Take Away
Sunflower seeds got their popularity for their ability to improve skin health, blood sugar levels, cholesterol levels, and thyroid function. They even help reduce the risk of heart disease. Chia seeds contain many important bone nutrients.
Keto-friendly Crackers at Store
If you don't have time to make your own low carb crackers, there are plenty of store bought options that can be a great substitute for traditional wheat flour crackers. Look for brands that use alternative flours such as almond flour, coconut flour, or flax seeds meal. Additionally, some brands may include ingredients like xanthan gum or psyllium husk to help bind the dough together. Be sure to check the label for full ingredients list and macros before purchasing.
These are great options for snacks or quick meals on the go: Good Health, Simple Mills, HighKey Snacks, and Low Carb Life.
Watch out for Calories and Net Carbs!
When making your own keto crackers or buying them, it's important to pay attention to the net carb content per serving. If a serving contains more than 5 grams of net carbs, it's not considered keto-friendly and should be avoided. Most crackers made with almond flour or coconut flour will contain around 1-2 grams of net carbs per serving.
Final
These homemade keto crackers are great for snacking on their own or with a variety of dips. Try pairing the crackers with creamy spinach dip, guacamole, or artichoke dip. They're also perfect for making charcuterie boards with cured meats and cheeses. The possibilities are endless!
Keep in mind that there are many low-carb substitutes to satisfy your appetite for savory snacks. Experiment in your kitchen with all the wonderful nutritional gifts from nature, while following your low-carb diet or ketogenic diet.
Try different flours, cheeses, and seasonings to create the perfect snack for you!