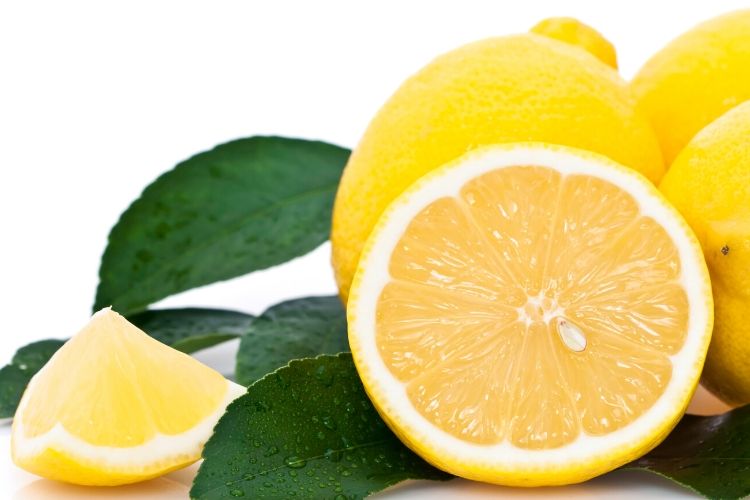 Lemons are a refreshing fruit packed with antioxidants, vitamin C and calcium.  This bright yellow fruit is so versatile, it has a number of culinary and medicinal uses. 
Whether you use lemons to make lemonade, flavor tea or squeeze over fish and salads, they offer some amazing health benefits… Not only do they reduce cancer risk, they also support the health of your heart and digestive system. 
What's more, the many plant compounds, minerals, and essential oils in lemons also help with weight control. This sour citrus fruit can optimize your diet and give your overall health a boost.   
So keep reading to find out why you need more lemons in your life.
Is Lemon Keto Friendly?
Those following the Ketogenic diet will be pleased to hear that lemons are on the list of Keto-approved fruits.  These tart citrus fruits are low in sugar and are a safe choice for low carb followers. 
The amount of carbs in a wedge of lemon (or lime) is pretty negligible – less than half a gram.  Because of its sour taste, most people aren't going to sit down and eat a whole lemon like they would most other fruits.  
Many folks prefer to flavor their water or tea with lemon and if you're one of those people, you can rest assured that this habit won't throw your body out of ketosis.  
How Many Carbs are in a Lemon?
A full lemon contains 6.4 grams of net carbs.
One lemon wedge (approximately an 8th of a lemon) contains 0.4 grams of net carbs.
A full cup of lemon juice contains 16 grams of carbs.
A tablespoon of lemon juice contains 1 gram of carbs.
How Many Calories are in a Lemon?
A full lemon contains 24 calories
One lemon wedge (approximately an 8th of a lemon) contains only 2 calories.
A full cup of lemon juice contains 53 calories.
A tablespoon of lemon juice contains 4 calories.
Health Benefits of Lemon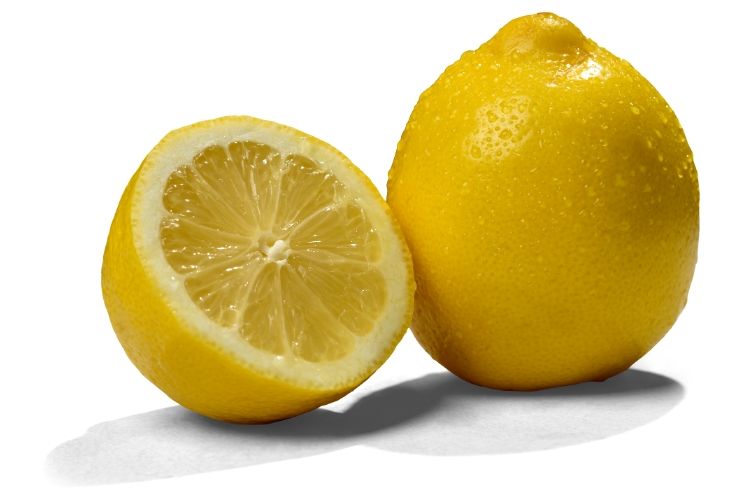 Powerhouse of Antioxidants
Lemons contain important antioxidants that each work in different ways to support your organs and overall health in the following ways: 
Hesperidin strengthens blood vessels and prevents the build-up of plaque in the arteries. 
Diosmin builds muscle and reduces inflammation in the blood vessels. 
Eriocitrin is a powerful compound believed to have ant-diabetic and anti-tumor, antiviral, and anti-inflammatory properties. 
D-limonene can prevent heartburn and acid reflux.
Supports Heart Health
A lemon contains half of your daily recommended intake of vitamin C, an essential nutrient that can lower your risk of heart disease and stroke.  The fiber and plant compounds in lemons can significantly lower the risk of heart disease and also improve cholesterol levels. 
Healthy Kidneys
Because citric acid increases the pH of your urine, consuming foods with high levels of citric acids (like lemons) creates a less-favorable environment for the formation of kidney stones.
Prevent Anemia
Not only are lemons a good source of iron, eating them also improves your absorption of iron from other foods in your diet, helping to prevent iron deficiency.
Anti-Cancer Properties
Various animal studies determined that eating citrus fruits, including lemons, lowers the risk of cancer.  Compounds in lemons killed cancer cells in test tube studies.  It is believed that the antioxidants limonene and naringenin could have anti-cancer effects. However, more research on humans is needed to verify these conclusions.
Aids Digestion
Lemons contain soluble fiber that helps to improve your digestive system.  Pectin, the main fiber in lemons is a soluble fiber associated with improved gut health.  Pectin also slows the digestion of sugars and starches to prevent spikes in blood sugar.
Interesting Uses for Lemon
Gargle with lemon juice and water to prevent bad breath or to treat a sore throat.
Make a hair rinse with lemon juice and water to give your hair added luster and shine.
Use lemon to polish copper pots, pans and silverware.
Use lemon juice to polish jewelry.
Remove stains from surfaces like countertops and walls with lemons.
Use lemons to clean your coffee pot and tea kettle.
Use lemon for its antibacterial properties to wipe down cutting boards.
Deodorize the microwave or garbage disposal with lemon.
Make your white shirts whiter by using lemon on sweat stains.
Get rid of garlic, fish or onion odor from your hands or cutting board with lemon.
Use lemon with salt to remove rust from metals or your vehicle's alloys.
Lemon Side Effects
Lemons are usually well tolerated but may cause allergies or skin irritation in some people. Large amounts may be harmful to dental health.
Nutrition Facts of Lemon
Amount:  1 Lemon (84 grams)
Calories 24
Total Fat 0.3 grams
0%
Saturated fat 0 grams
0%
Polyunsaturated fat 0.1 grams
Monounsaturated fat 0 grams
Cholesterol 0 milligrams
0%
Sodium 1.7 milligrams
0%
Potassium 115.9 milligrams
3%
Total Carbohydrate 8 grams
2%
Dietary fiber 2.4 grams
9%
Sugar 2.1 grams
Protein 0.9 grams
1%
| | | | |
| --- | --- | --- | --- |
| Vitamin A | 0% | Vitamin C | 74% |
| Calcium | 2% | Iron | 2% |
| Vitamin D | 0% | Vitamin B-6 | 5% |
Lemon Drop Martini
A lemon drop is a vodka-based cocktail that has a lemony, sweet and sour flavour.  It is made in a cocktail shaker with ice.  Just add equal parts of vodka, triple sec, and lemon juice and then strain into a shot glass. 
Those following a low carb diet should note that triple sec contains 11 grams of carbs per ounce and 100 calories.  You can omit this ingredient to keep it Keto and sweeten your drink with a sugar-free sweetener instead.
Lime Versus Lemon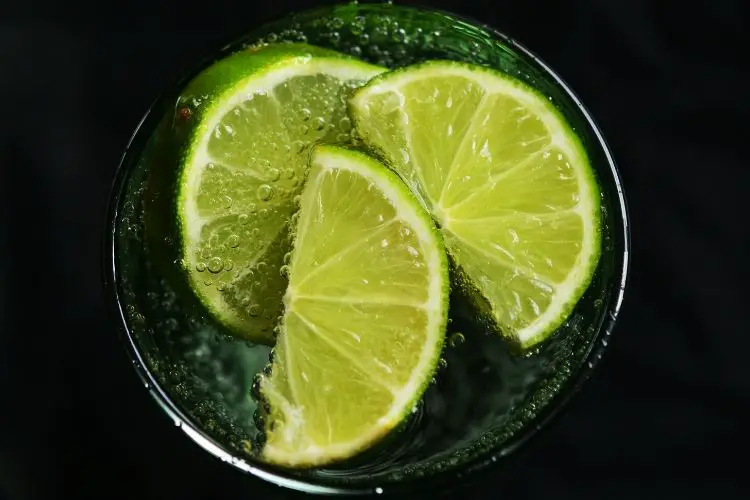 Besides color, you may be wondering, what's the difference between a lemon and a lime?  Although limes are closely related to lemons, they taste less sweet and are slightly higher in carbs.  Lemons tend to be sweeter. For this reason, lemons and limes are used differently in the culinary world.  Typically lemons are used in sweeter dishes and more so in desserts, while limes in dishes that are meant to be sour.  Although they have two distinct flavor profiles, they share many of the same nutrients and health benefits as they're very similar in their nutritional makeup.
Keto Lemon Cake Recipe
Ingredients:
5 eggs, room temperature
3/4 cup sugar free granulated sweetener
1/2 cup melted coconut oil or melted butter
1 and 1/2 cups almond flour  
3/4 cup coconut flour  
1 tablespoon baking powder
1/4 cup lemon juice  
1/2 teaspoon vanilla
1/2 tablespoon lemon zest
For the Glaze:
1 cup powdered sweetener
2 tablespoons lemon juice
Instructions:
Preheat oven to 350 Fahrenheit. Line a 9 inches x 5 inches loaf pan with parchment paper.  
In a large bowl, whisk together eggs, sugar free granulated sweetener, melted coconut oil (or butter), vanilla, and lemon juice. (Cool the oil or butter first before adding eggs to make sure the egg doesn't cook in the bowl and create lumps.)
In a different bowl, whisk together the almond flour, coconut flour and baking powder until dry ingredients are well-combined.
Add the liquid ingredients to the dry ingredients, stirring together until it forms a smooth, lump-free batter.
Pour the cake batter into the baking pan.  Bake at 320 degrees for an hour.  If the top starts to brown, you can cover it with foil to avoid burning.  Insert a toothpick into the center of the cake to make sure it's fully cooked through.
Fully cool before attempting to remove cake from pan.
Transfer to a cooling rack to cool completely before glazing.  (Do not glaze while it's hot, or the glaze will melt and drip right off!)
Popular Dishes That Use Lemon
A popular dish called lemon chicken is made by roasting the chicken together with lemon. 
Fish and seafood, like shrimp, crab and lobster can also be grilled with lemon or lemon wedges can be squeezed over the prepared dish. 
Lemon is added to salads, like Caesar salad and tabbouleh (parsley salad).  Squeezing lemon on salad is also a great way to add flavor without adding many calories.
Lemon also is used in baked goods and desserts, like squares, cakes or meringue pie.  Lemon pairs well with blueberries and raspberries. 
Use lemons to make lemonade, flavor tea or add it to cocktails. 
Related Questions:
Can Lemons Help With Weight Loss?
Animal studies show that lemon extract and plant compounds may promote weight loss, but the effects in humans are unknown.  One study conducted on mice in Japan reported that mice fed with lemon polyphenols suppressed weight gain and body fat accumulation.
The flavonoids in lemons are important natural compounds with diverse biologic activities. Citrus flavonoids were found to display strong anti-inflammatory and antioxidant activities. 
Another study looked at the effect of lemons on metabolic syndrome and found that naringin supplementation is beneficial for the treatment of obesity, diabetes, hypertension, and metabolic syndrome. 
It is believed that lemons have a positive effect on lipid metabolism in obesity, oxidative stress, and inflammation in the context of metabolic syndrome in animals.  More human studies are needed however to conclude these findings.