Yellow squash, also known as Summer Squash, is very low in carbs and perfect for the Keto diet. 
How many carbs are in yellow squash? There are only 3 grams of carbs in a 100 gram serving of summer squash.  At only 4 grams in a whole small squash, peeled and cooked, it makes a perfectly healthy, keto-friendly food.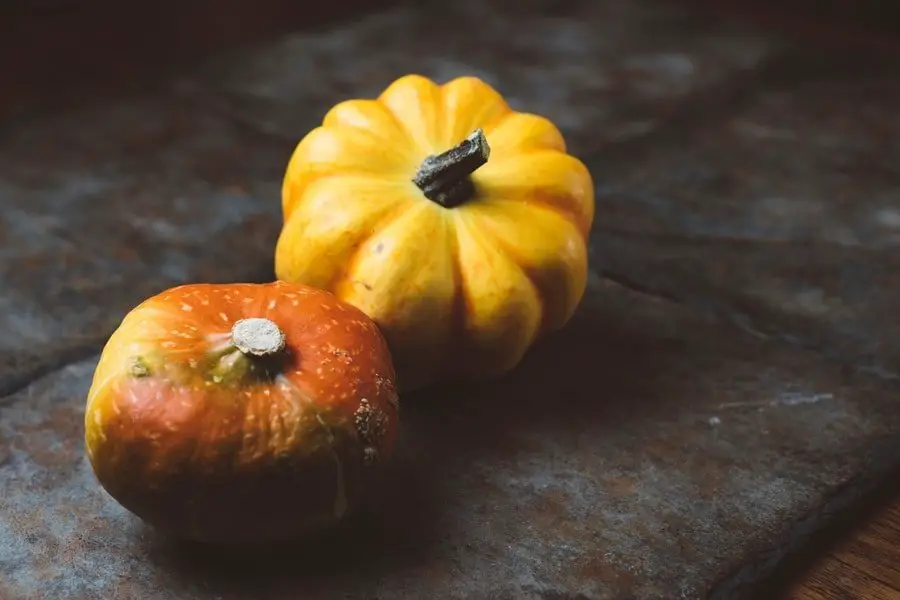 How Many Calories in Yellow Squash?
There are very few calories in yellow squash – only 18 calories per cup to be precise, making it a great choice for not just the Keto diet, but all diets alike.
Is All Squash Keto-Friendly?
Butternut and Winter Hubbard, are two higher carb types of squash that should be eaten sparingly while following the Keto diet. Though a fall favorite and high in fiber, Acorn squash is another high-carb culprit.  These varieties of squash fall in at approximately 10 grams of carbohydrates per 100 gram serving (1/2 cup, chopped).
This is too high for most Keto dieters.  Eating too much of these types of squash could send you over your daily carb limit.  We recommend swapping out these high carb varieties for Yellow Summer squash or Spaghetti squash.
The chart below ranks the carb content of each type of squash from highest to lowest for comparison.  Always opt for one of the lower carb varieties of squash while following the Ketogenic lifestyle.
Squash Type

Carbs
(Per 100 Gram Serving)
Squash, winter, butternut
12 grams
Squash, winter, acorn
11 grams
Squash, winter, hubbard
9 grams
Squash, winter, spaghetti
7 grams
Squash, summer, crookneck and straightneck
4 grams
Squash, summer, scallop
4 grams
Squash, summer, yellow
3 grams
Health Benefits of Squash
None can deny that the heart is one of the most vital organs of the human body.  Keeping it healthy is pivotal.  The antioxidants in summer squash take care of the overall health of the heart.  The fiber and magnesium found in this fruit significantly minimizes the body's vulnerability to heart attack and stroke. 
Squash also works to protect the skin, the largest organ of the body.  But that's not all… This amazing fruit also reduces chronic disease, improves digestion, lowers cholesterol, builds strong bones, reduces blood pressure, and so much more!
Interesting Facts About Squash
Squash's scientific name is "Cucurbita" and it grows on herbaceous vines in the gourd family, Cucurbitaceae. 
Squash is actually a fruit native to the Andes and Mesoamerica.  Like tomatoes, eggplants, avocados and cucumbers, squash isn't the only plant that gets confused for a vegetable.
Squash and melons are related. Both summer and winter squashes are relatives of the melon family.
Orange and yellow squashes (like summer squash and butternut) are loaded with vitamin A. A single cup provides more vitamin A than most people need in a day – that's almost 500% of your daily needs!
Five species are grown worldwide for their edible fruit, variously known as squash, pumpkin, or gourd depending on species, variety, and appearance of seeds. 
There are two different types of squash: summer and winter. Summer squash, like zucchini or pattypan squash, have thin skins and can be eaten whole with skin.
Winter squash like pumpkin and butternut squash have a tougher rind that is typically peeled and discarded. Only the flesh of the fruit is consumed.
Squash seeds can be saved and roasted. They make a delicious and nutritious snack with a nut-like flavor.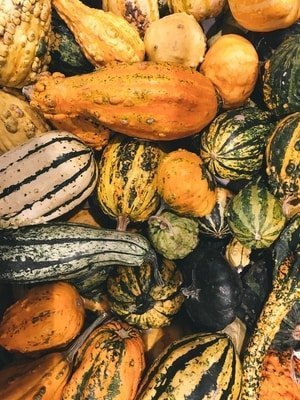 Most winter squash varieties have long shelf lives and can last in a cool, dry place for months at a time.  Although winter squashes are actually harvested in the fall, they are called "winter squashes" because they store well during the long, cold winter months.
The key to chosing a good squash for storing, is to look for one that has firm skin without dullness. Check to make sure there are no visible blemishes on the fruit and feel it to ensure there are no soft spots.
Carbs in Spaghetti Squash
Got a hankering for Spaghetti and Meatballs while on the Keto diet?  No problem!  Simply swap out your pasta for sqaghetti squash (veggie noodles), top with your favorite low sugar pasta sauce and lots of parmesan cheese.  Enjoy!
A whole cup of these spaghetti squash veggie noodles contains only 7 grams of carbs.  Regular spaghetti pasta made with wheat flour is 31 grams of carbs.  Now that's a significant carb savings! 
Carbs in Butternut Squash
Butternut squash is a type of squash that is higher in carbs than most other varieties.  At 12 grams of carbs per 100 gram serving, butternut ranks in at one of the highest carb types of squash. 
With that being said, it is still a very healthy foodm rich in vitamins and antioxidants, and may still be enjoyed occasionally in small amounts. You may wish to limit your serving of butternut squash to a 50 gram serving to save on carbs. Enjoy a small amount of butternut squash as a side dish as part of a larger meal consisting of a protein and greens vegetables.
Low Carb Spaghetti Squash and Meat Sauce Recipe
Ingredients:
1 small spaghetti squash
½ pound lean ground beef or ground chicken
½ teaspoon oregano
2 cloves garlic, minced        
½ teaspoon paprika
½ teaspoon onion salt
½ teaspoon black pepper
Pinch of cumin
½ cup low sugar marinara sauce or ½ can diced tomatoes
¼ cup water
1 heaping tablespoon hot tomato salsa (optional)
A dash of hot sauce (optional, if you like your sauce spicy.)
Instructions:
Cut spaghetti squash in half (width-wise for longer noodles). 
Rub squash halves with olive oil and roast in oven for about 30 minutes, until noodles are pliable and pull away from the rind. 
Fluff with fork to release noodles.  (I prefer mine plated to reduce the mess, but some people like to make spaghetti squash boats and eat their spaghetti right out of the rind – nature's own bowl.)
Brown ½ pound of lean ground beef (or ground chicken) in skillet with seasonings.
Add sauce, salsa, tomatoes and water.
Simmer on low heat for ½ hour to reduce.
Pour meat sauce over squash noodles and top with fresh grated Parmesan cheese.
Keto Butternut Squash Soup Recipe
Ingredients:
1 tablespoon coconut oil
1 small onion, diced
2 cloves garlic, minced
1 tablespoon red curry paste
1/4 teaspoon cayenne pepper 
3 cups low-salt chicken or vegetable broth
1 can coconut milk
12 ounces butternut squash peeled, seeds removed, and cut into large chunks
2 tablespoons cilantro, chopped
parsley for garnish (optional)
salt and pepper to taste
Instructions:
In a soup pot over medium heat, melt coconut oil.  Sautee onions, stirring frequently, until they appear translucent and fragrant.
Stir in the garlic, red curry paste and cayenne pepper. Cook until combined and aroma is released (about two minutes). 
Stir in the broth, coconut milk and add raw chopped squash. Bring mixture to a simmer. Simmer, uncovered, until the squash is very tender.
Puree soup in the pot using an immersion hand blender until it becomes thickened and smooth.
Stir in cilantro.
Taste and add sea salt and fresh ground black pepper or white pepper to taste. 
If desired, garnish with additional cilantro or parsley.
Crispy Parmesan Squash Rounds
Ingredients:
1 medium-sized yellow summer squash
1 tablespoon Extra Virgin Olive Oil
Garlic salt & freshly ground black pepper (to taste)
1/2 teaspoon Smoked Paprika
1/2 cup freshly grated Parmesan cheese
Instructions:
Preheat the oven to 425°F. Line a baking sheet with foil.  Spray foil with with non-stick cooking spray.
Wash and dry the squash, and then cut each one into 1/4 inch thick slice rounds. Arrange the squash slices on the prepared pan and brush lightly with olive oil.
Lightly sprinkle the rounds with paprika, garlic salt and freshly ground black pepper.
Use a small spoon to spread a thin layer of Parmesan cheese on each slice of squash.
Bake for 15 to 20 minutes, or until the Parmesan melts and turns a light golden brown.
Broil them for an additional minute or two at the end to speed browning.
Garnish with parsley and serve immediately on their own or with a dollop of sour cream.