Corn, along with peas, beans, lentils and quinoa are not the best picks for low-carb diets, like Keto, and therefore should be limited. Although they are all grown from the earth and boast a number of health benefits, grains like corn and quinoa and legumes like peas, beans and lentils are all quite high in carbohydrates.
These foods should only be eaten in moderation while following the Keto diet. That being said, you don't have to avoid the golden goodness of corn altogether while following a low carb lifestyle.
On more liberal diets, you may be able to consume foods like corn more regularly. However, if you are keeping carbs below the recommended 20 grams a day on Keto, you should limit corn to ¼ cup serving, which contains a modest 7.5 grams of carbs. So, let's get a little corny… Shall we?
Just not too much. Be careful not to overindulge, as a whole cup of the stuff contains a whopping 30 grams of carbs, which could easily send you over your daily carb limit.
How Many Carbohydrates & Calories are in an Ear of Corn?
A whole cob of corn contains 22 grams of carbs and only 6 grams of natural sugar, less than the amount in a banana. One plain ear of corn has about 100 calories, similar to an apple. And with nearly 3 grams of fiber per serving, corn can help you feel full longer, so you're less likely to overeat later.  If your diet strictly limits carbs, eat only a half a cob instead of the whole cob.
Fresh or Canned Corn is good for you, but it should be eaten in moderation while following a low carb diet.  You can safely consume a ¼ cup serving of corn on Keto, which contains only 7.5 grams of carbs and still remains well within your daily carb limit.
Sweet and Yellow Corn contain 19 grams per 100 gram serving.
Corn Nuts pack a whopping 72 grams of carbs per 100 gram serving.  This snack is not conducive to a low carb lifestyle.
Popcorn contains 74 grams of carbs per 100 gram serving and should also be avoided when following a low carb diet plan.
Nutritional Benefits of Corn
Although corn contains complex carbohydrates, it is healthy food. In fact, corn is rich in vitamin C, magnesium, and B vitamins. 
Corn is loaded with lutein and zeaxanthin, two phytochemicals that promote healthy eye-sight.
Corn contains less than 1 gram of fat per ½ cup and 3 grams of dietary fiber to keep you regular and feeling satiated.
Is Canned Corn Keto-Friendly?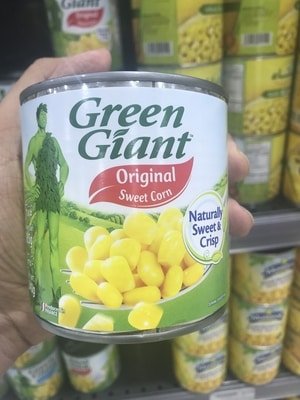 There are 30 grams of carbs in a cup of canned corn.  Whether canned or fresh, corn can be a keto friendly food if eaten in moderation.  
For example, adding a moderate amount of corn to a recipe like a chowder or Southwestern chili may be fine, but eating a whole cup of corn on its own could cause you to exceed your daily carb quota.
Depending on how flexible your low carb diet is, you'll want to consume corn sparingly.  
Some plans, like Atkins, have an induction phase in which carbs are strictly avoided in the first few weeks, but then gradually reintroduced later in the diet program.  In this phase, corn should be avoided, but you may wish to add corn back into your meal plan later in your program. In doing so, your best bet is to stick to a ¼ cup serving, containing a moderate 7.5 grams of carbs.
Is Corn a Fruit or a Vegetable?
There is quite a controversy over whether corn is a fruit, vegetable, or grain. 
Corn seed, when harvested after the grain is relatively dry, is considered a grain because it is a dry seed of a grass species. However, the botanical definition claims corn seed is a fruit. Sweet corn (also known as Peaches and Cream Corn containing a mix of yellow and white kernels) when harvested before maturity, is usually considered a vegetable.

Is Corn Good for Weight Loss?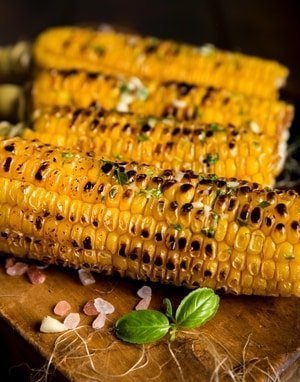 Did you know, generally speaking, corn can be good for weight loss?  Many dieters who don't follow Keto or other low carb plans, believe corn can be a perfectly fine addition to their food repertoire.  Many diets that don't restrict carbohydrates allow corn. 
The insoluble fiber in corn feeds the good bacteria in your gut, which aids in digestion and helps keep you regular.
Additionally, the resistant starch in corn makes it slow to digest type of complex carbohydrate, which has been shown to help with weight management.  Add to that a healthy dose of B vitamins, iron, protein and potassium, and you've got one sweet, complete package!
But Isn't All Corn Genetically Modified (GMO)?
Another food myth debunked!  Only a small percentage of sweet corn grown in the U.S. is genetically modified, according to the USDA.  Most GMO corn is used in processed foods like corn chips, breakfast cereals, high-fructose corn syrup and corn oil.  We don't have to worry about those foods, as we tend to avoid them on a low carb diet, anyway.
What about Corn Flakes?
The popular breakfast cereal, Corn Flakes contains a whopping 84 grams of carbs in a single 100 gram bowl.  Avoid this cereal and avoid adding it to recipes, like filler for meatloaf.  Most of the corn used to make cereals is genetically modified, so be careful if you're sensitive to GMO food products.
Best Keto-Friendly Meals with Corn
Recipes that call for small amounts of corn are generally recommended for low carb diets. 
A good option for low carb diets, like Keto, is Southwestern Chili made with ground beef, turkey or chicken, using a spicy tomato base and only a handful of corn and beans.
You may wish to sprinkle a tablespoon or two of corn niblets over a Taco Salad.
Corn Chowder recipes can be tweaked by cutting the corn in half.  If you use only 1 cup of corn for a whole pot that serves 6, each bowl yields only 5 grams of carbs! (Pureed cauliflower makes a great substitute for creamed corn and makes your chowders extra thick and creamy.)
Enjoy a ¼ cup serving of canned corn niblets (7.5 grams of carbs) or 1/2 a cob of fresh sweet corn (11 grams of carbs) as a side dish to go along with your favorite Protein and Vegetable Entrées.
Top 10 Keto-Friendly Veggies (to enjoy beside the small amount of corn)
Since you'll be enjoying only a small amount of corn on your plate, fill up on more of the following low carb vegetables:
Cauliflower (3 g. of carbs per 100 gram serving). A staple food in many keto recipes, cauliflower has a mild flavor and is very versatile. It's used for as the base for cauliflower mash and rice.  It can also be pureed into sauces, soups, and chowders to make them thick and creamy.
Avocado (2 g. of carbs per 100 gram serving).  Technically a fruit, Avocado is chock full of nutrients and healthy fat. It can be consumed in salads or mashed as guacamole and enjoyed as a condiment.  Its health benefits make avocado is a keto superstar.
Broccoli (4 g. of carbs per 100 gram serving).  A versatile, tasty, and simple replacement for pasta, rice or potatoes. It can be steamed, stir-fried or smothered in cheese sauce.
Zucchini (3 g. of carbs per 100 gram serving).  Zucchini can be roasted or it can also be spiralized to make Keto-friendly veggie noodles.
Asparagus (2 g. of carbs per 100 gram serving).  Simply steam and smother in butter.  Makes the perfect low carb vegetable side dish for any dinner.
Kale (3 g. of carbs per 100 gram serving).  Add raw to salads or steam and add to your favorite dishes.  You can also bake it in the oven, drizzled with olive oil and sprinkled with sea salt to make kale chips – a delicious, keto-friendly snack!
Green beans (4 g. of carbs per 100 gram serving).  Green beans can be roasted or steamed and always taste great smothered in butter.
Brussels sprouts (5 g. of carbs per 100 gram serving).  These mini cabbages pack a lot of flavor and are excellent roasted until crispy or served in a creamy sauce or sautéed with bacon.
Spinach (1 g. of carbs per 100 gram serving).  Spinach is used raw in salads, steamed or added to casseroles or frittatas. 
Cabbage (6 grams of carbs per 100 gram serving). This veggie stands out when sautéed in butter or olive oil.  It can be used in stir fry dishes and flavored with soy sauce and cayenne pepper.  It's reasonably low in carbs and packed with vitamin K.