Since chicken broth is low in carbs; it is perfect for the keto diet.  Homemade chicken broth made from bouillon cubes, simmered with chicken bones and savory spices makes a great option for Keto dieters.
Try This -> 12-week Yoga Burn Challenge!
Store bought broths can contain wheat and may have higher carb values, so be careful when purchasing broth at the supermarket. Always read the nutritional information on the packaging to ensure you're buying a low carb product.
Is Chicken Broth Keto-Friendly?
Homemade chicken broth has plenty of rich flavor, but a lot less carbohydrates than most soups, making it a perfect addition to your Keto diet.  
In fact, many Keto dieters enjoy chicken broth made from bouillon cubes to ensure they get enough sodium in their diets.  Bone broth is a natural source of magnesium, potassium, calcium, and sodium. Sipping chicken broth makes perfect sense because intakes of these essential nutrients are commonly lower in individuals following a ketogenic diet. 
Due to the dehydrating effects of a low carb diet, drinking salty chicken broth can help restore electrolyte balance, a common problem associated with the Keto diet.  Drinking chicken broth is effective for that purpose as the sodium in the broth helps the body hold on to water.  Due to this, drinking chicken broth may even prevent the dehydration symptoms that cause the dreaded "Keto flu".
If you're planning to purchase store bought broth, however, make sure you read the nutritional information and ingredients to make sure it is in fact low carb.  Some store bought brands may incorporate wheat into their recipes, which can bring carb counts up higher.  
Most broths on the market are low in carbs, but there are a few sneaky brands that are higher in carbs.  Keep reading to find out which brands are best to buy for a low carb diet.
Nutritional Benefits of Chicken Broth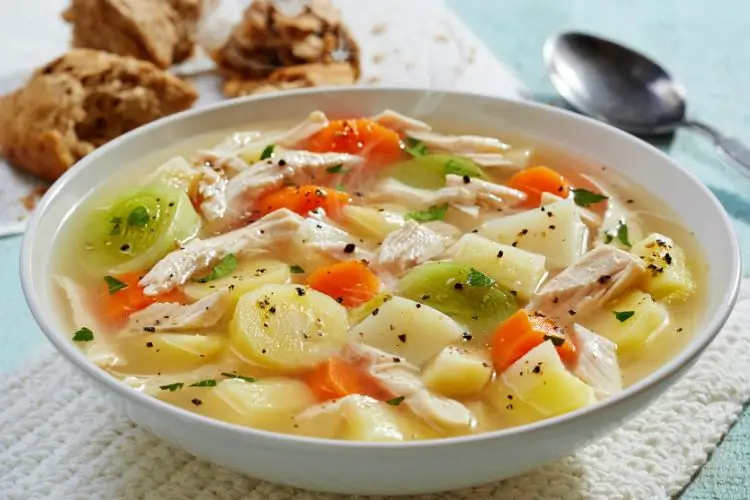 Chicken broth is rich in potassium and magnesium. 
The collagen in chicken bone broth can assist joint health and help build lean muscle mass when following a ketogenic diet. The collagen also supplies the skin with more elasticity.  This could even help you limit the saggy skin that often comes along with weight-loss.

Rich in glycine, chicken bone broth improves sleep quality and aids insomnia, a common symptom of the Keto diet.
Drinking bone broth even has the power to fight fatigue, another symptom that may come with the Keto diet.
The amino acids l-glutamine, glycine, histidine, and cysteine in bone broth work as an anti-inflammatory that relieves joint pain from arthritis.
Because of the healthy gut microbiome, bone broths may even improve your mood and fight depression!
How Many Calories and Carbs are in Chicken Broth? 
Chicken broth contains 28 calories, 1 gram of net carbs, 1 gram of fiber, and 7 grams of protein per cup.   
Top 3 Low Carb Chicken Broth Brands
Better than Bullion Roasted Chicken Base is made with roasted chicken. This gives it a richer, more robust flavor than ordinary bouillons or soup stocks. Better than Bullion is a "top shelf" brand of bullion that is both low in calories and in carbs.  This chicken broth is available at some supermarkets and online at Amazon.
Ancient Nutrition Bone Broth is a dehydrated chicken bone broth powder that you mix with hot water.  It makes a great tasting chicken broth that's packed with collagen for gut, skin, joint and heart health.  This bone broth powder is only 90 Calories, 0 grams of net carbs, 1 gram of fat, and 20 grams of protein! It also contains 19 essential amino acids.  This product can be purchased online at Amazon or on the Ancient Nutrition web site.
Kettle & Fire makes a great keto-friendly Miso Soup with Chicken Bone Broth. It's a low-carb soup boasting 11 grams of protein and only two net carbs per serving. You can purchase this product online at Amazon or on the Kettle & Fire web site.
Uses for Chicken Bone Broth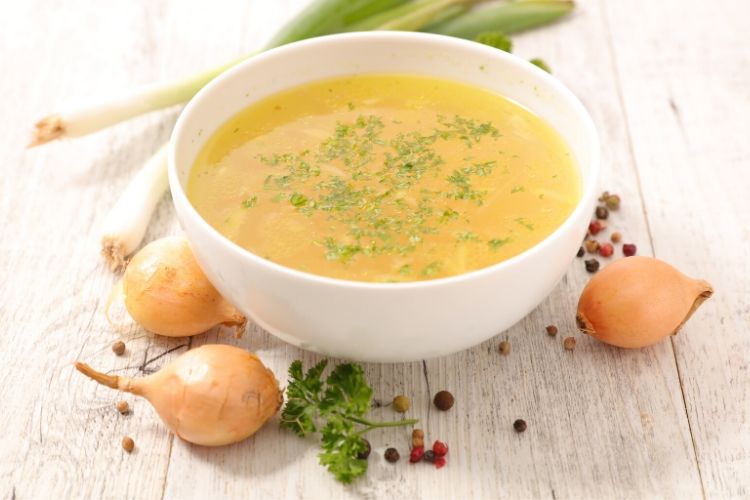 To treat the Common Cold
If you're sick with a nasty cold, a hot mug of bone broth may just be the answer to your woes.  It makes a very warming and comforting drink to soothe a sore throat, relieves congestion and fights off fatigue, as well as restore elecrloyes and hydration to the body.
To Sauté Veggies
You can use chicken broth to cook veggies, like green beans or lima beans or use the broth as the base for sauces, soups and gravies.  Simply boil chicken on the bone in some chicken broth made with bouillon, along with your favorite low carb veggies and simmer for a delicious, hearty chicken soup.
Sautéing your favorite low carb vegetables in chicken stock to make a hearty chicken stew is another delicious way to use broth.  There are plenty of veggies you can have on the keto diet plan, so try sautéing or stewing them on the stove top or in a slow cooker with bone broth to boost both nutrients and flavor.
To Ditch the Caffeine
Why not trade your morning java for chicken broth?  Unlike coffee, chicken broth is caffeine-free. It also contains minerals and amino acids that support the Keto diet.  These nutrients increase energy levels, so try sipping bone broth first thing in the morning to start your day off on the right foot.
Chicken Broth vs. Bone Broth:  What's the difference?
Chicken broth, also called chicken stock can be made with just bullion or with chicken bones. Bone broths are to be simmered for a few hours, until bones become soft and release their collagen and the meat falls away from the bone.  Once the bones have released their useful collagen, they are then taken out of the stock and discarded. 
What separates chicken broth from bone broth is the high quantity of collagen, indicated by a gelatinous substance that forms upon refrigeration. Collagen makes bone broth a nutrient-packed superfood that has the potential to do wonders for your health. Your bones-to-water ratio determines how much collagen your stock yields. For a thicker stock, use less water with more bones; and for thinner stocks, do the opposite.
Chicken Bone Broth Recipe
This delicious chicken bone broth recipe makes 6 servings and contains only 74 calories and 1 gram of carbs per 1 cup serving.
Ingredients:
Bones/carcass of a whole chicken 
2 chicken bouillon cubes
2 stalks of celery, roughly chopped
1 large carrot, roughly chopped
2 cloves of garlic, smashed and peeled
1 onion diced
½ teaspoon celery salt
½ teaspoon summer savory
½ teaspoon thyme
Celery leaves
salt and pepper to taste
6 cups water 
3 bay leaves
Instructions:
Dice veggies while boiling chicken bones in water.  Boil chicken bones for at least 1 hour to release essential collagen from bones.
In a separate saucepan, saute diced carrot, celery, onion and garlic in a little water or oil until slightly softened. 
Add sautéed veggies to pot of chicken bone stock along with bouillon cubes, bay leaves and seasonings and turn heat down to medium low.  
Continue simmering for another 10-15 minutes.
Remove chicken bone carcass and serve!
Related questions:
Can I give my baby chicken broth?
Feeding a baby with a cold chicken broth may help your little one get over his or her sickness and soothe flu symptoms.  Making chicken bone broth for your baby is easy, but it does take quite a few hours to cook.  When the chicken is falling off the bones, the broth is considered done.  It can then be strained through a strainer and warmed in a bottle or sippy cup.  A safe serving size for a baby would be a quarter cup to a half cup. 
Is chicken broth gluten-free?
The gluten ingredient that can be present in commercially prepared chicken broth or stock is usually wheat. If the stock contains this ingredient, it will be shown on the ingredients label. If you're sensitive or intolerant to gluten, be sure to read the ingredients label. Homemade broths are typically gluten-free.
Is chicken broth vegetarian?
Some bouillon brands used for chicken stock are vegetarian as they only contain chicken flavourings and not actual chicken.  Others use real chicken to flavor their dehydrated bouillon cubes.  It all depends on the brand you choose to purchase, but you can always use vegetable stock for a safe, cruelty-free option.  Better Than Bouillon is a brand that makes a chicken flavored vegetarian soup base without using actual chicken.