When you think of high carb foods, the bread and cereals food group probably comes to mind.  On the keto diet, you will need to limit your intake of grains, as well as legumes, fruit, milk, and some starchy veggies. To maintain ketosis, you should limit your carb intake to 50 grams or less daily.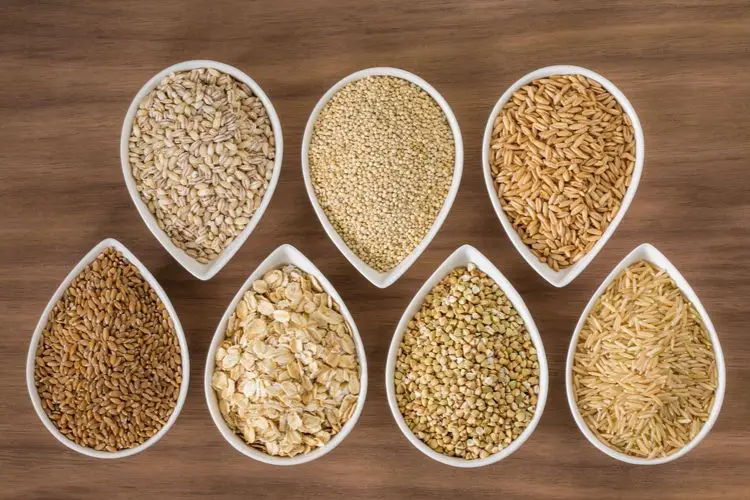 Grains like rice, wheat, and oats, are high in carbs and need to be limited on a ketogenic diet.  Some grains are better than others.  Choose in-tact whole grains that contain fewer carbs and calories, but pack more fiber. Complex carbohydrates are always a better option over simple carbs because they keep you feeling satiated and also prevent spikes in blood sugar.
Because bread is a staple in most people's diet, removing bread from your meal plan can be challenging at first.  It may take some getting used to, but eventually you will adjust to the healthier grains and hardly miss simple carbs like white bread. Try Ezekiel bread made from sprouted grains or bake your own cloud bread, a great low carb bread that has only a few natural ingredients.  I'll tell you how later in this article, so keep reading…
Of course, sweets like cakes and cookies should be cut out of the Keto diet.  However, many keto dieters make baked goods using almond flour and sweetener in place of wheat flour and sugar.
It may seem challenging getting used to low carb bread and bread alternatives, but once your taste buds adjust, you probably won't miss regular old white bread.
Which Grains Are Lowest in Carbs?
The following grains are ranked by lowest in carbohydrates:
Oatmeal: 21 grams carbs (18 grams net)
Wild rice: 35 grams carbs (32 grams net)
Couscous: 36 grams carbs (34 grams net)
Bulgur: 34 grams carbs (26 grams net)
Quinoa: 39 grams carbs (34 grams net)
Millet: 41 grams carbs (39 grams net)
Barley: 44 grams carbs (38 grams net)
Brown rice, medium grain: 46 grams carbs (42 grams net)
Which Grains Are Lowest in Calories?
The following grains are ranked by lowest in calories:
Oatmeal contains 68 calories per 100 gram serving.
Wild rice contains 100 calories per 100 gram serving.
Brown rice contains 111 calories per 100 gram serving
Couscous contains 112 calories per 100 gram serving.
Bulgur contains 342 Calories per 100 gram serving.
Barley contains 354 Calories per 100 gram serving.
Quinoa contains 367 Calories per 100 gram serving. 
Millet contains 378 Calories per 100 gram serving.
Nutrition Facts
Multi-Grain Bread, Serving Size 1 ounce slice (28.4 g)
Calories 75
Total Fat 1.2 grams
1%
Saturated fat 0.2 grams
1%
Polyunsaturated fat 0.5 grams
Monounsaturated fat 0.2 grams
Trans fat 0 grams
Cholesterol 0 milligrams
0%
Sodium 108 milligrams
4%
Potassium 65.2 milligrams
1%
Total Carbohydrate 12 grams
4%
Dietary fiber 2.1 grams
8%
Sugar 1.8 grams
Protein 3.8 g
7%
| | | | |
| --- | --- | --- | --- |
| Vitamin A | 0% | Vitamin C | 0% |
| Calcium | 2% | Iron | 3% |
| Vitamin D | 0% | Vitamin B-6 | 5% |
| Cobalamin | 0% | Magnesium | 5% |
Health Benefits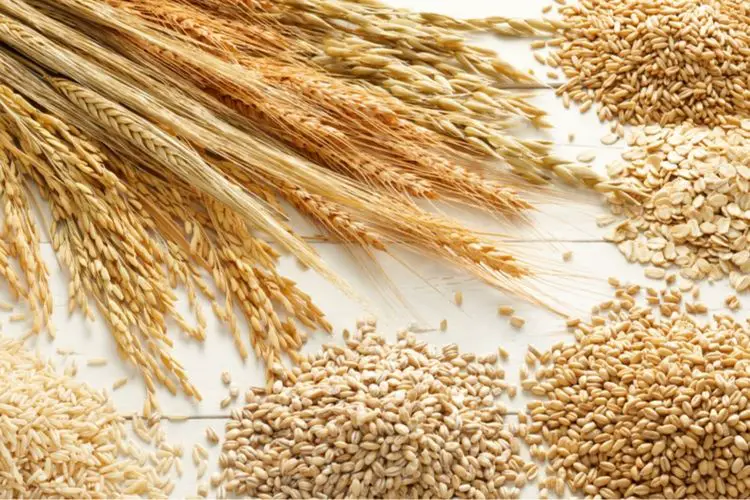 Whole grains are loaded with nutrients like protein, fiber, B vitamins, and antioxidants.  They also contains essential trace minerals, like copper, iron, magnesium and zinc.   Consuming whole grains in your diet regularly can reduce your risk of disease and some types of cancer.  In fact, eating whole grains helps prevent obesity and obesity-related illnesses like heart disease and type 2 diabetes.
Quinoa is considered a superfood because it has a similar nutritional profile and macronutrients to brown rice, but it contains a bit more protein and fewer carbohydrates per serving, making it a slightly better option.
Wild rice is a grain that is low in calories, fat and sodium.  Brown rice is especially nutritious because of its rich fiber content.  Both wholegrain and Basmati rice contain resistant starch, which slows the digestion of carbohydrates. Additionally, the magnesium found in Basmati rice can stabilize blood sugar.
Studies show that resistant starch in foods like rice, oats and barley can help with weight loss and benefit heart health.  Resistant starch also improves insulin sensitivity and digestion. 
Best Grain Substitutes for Keto
Cauliflower rice  
Quinoa
Farro (contains twice the fiber of rice)
Sweet potato
Shirtaki noodles (much like tonfu, these noodles pick up the flavor they are cooked with)
Cabbage Rice
Zoodles (Zucchini Noodles)
Spaghetti Squash
Portobello mushroom (a great alternative to burger buns)
Lettuce Wraps
Cauliflower pizza crust
Zucchini lasagne (thinly slice zucchini lengthwise as an alternative to lasagne noodles)
Best Keto-Friendly Bread
Ezekiel Bread
Ezekiel bread is a nutritious sprouted grain bread that's so ancient, it's even mentioned in Bible verses.  This amazing bread contains organic grains and legumes, including wheat, barley, spelt, millet, lentils, and soybeans.
One slice of Ezekiel bread contains 15 grams (g) of carbohydrate so people could incorporate it into a low-carb diet plan. 
Cloud Bread
Cloud bread, also called "oopsie bread", is very popular with low-carb and keto dieters. This bread is a protein-rich alternative to regular bread and is wonderful for sandwiches. 
To make this lower carb bread, you will need just a few ingredients:  3 large eggs, 3 ounces of cream cheese and 1/8 of a teaspoon sea salt.  In a mixing bowl, whisk the egg whites until they form stiff, foamy peaks. 
In a separate bowl, whisk the egg yolks, cream cheese, and salt.  Fold in the egg whites with the ingredients in the second bowl gently.  Do not overmix or you will deflate the dough.  Cloud bread should be light and airy.  Place bun-sized dollops of the dough on a greased baking sheet and bake for 30 minutes at 300 degrees Fahrenheit. 
Almond Flour Bread
You can substitute the wheat flour in any bread recipe with lower carb almond flour.  Almond flour is one of the best types of flour to use in low carb cooking and baking.  Not only is almond flour great for bread making, it can also be used to make low carb tortillas and pancakes. 
For low carb pancakes, simply mix the following ingredients in a bowl:  2 cups of almond flour, 4 eggs, 1/4 cup of coconut oil, 1/2 cup of water, a teaspoon of baking soda, and low carb sweetener (like stevia) to taste.  Pour the batter into the pan and flip the pancakes when the edges begin to firm up and bubble.
Try our recipe for low carb tortillas included in this article. 
Simple Carbohydrates versus Complex Carbohydrates
Simple carbs come in the form of sugar, like fruit juice, table sugar, honey, soft drinks, white bread (which the body converts to glucose) and other sweets.  Milk, although healthy, contains natural sugar called lactose and also falls under the category of simple carbs.  Simple carbs spike blood sugar and can cause an energy crash not long after consuming them. 
Complex carbohydrates make a much better dietary choice. Because they take longer to digest, they're a more stable source of energy.  Complex carbohydrates include starches, like whole-grain bread and cereals, potatoes, whole grain pasta, brown rice, and legumes (dried peas and beans). 
Complex carbohydrates have longer chains and are slower to break down.  For this reason, they provide more lasting energy for the body.  Fiber also fills you up and slows the absorption of sugar.  Fibrous foods that fall into the category of complex carbohydrates, include bran, whole wheat, oats, seeds and popcorn.  ,
Fiber in Grains
A 1-ounce slice of multi-grain bread contains 2.1 grams of fiber. 
To increase your fiber consumption, swap white bread for whole-grain bread.  Consume brown rice instead of white rice and try using steel-cut or rolled oats instead of instant oats, which contain added sugar. 
The following grains are the best sources of fiber:
Quinoa
Seeds
Bran
Popcorn
Freekeh
Bulgur wheat
Pearled barley
Sugar in Grains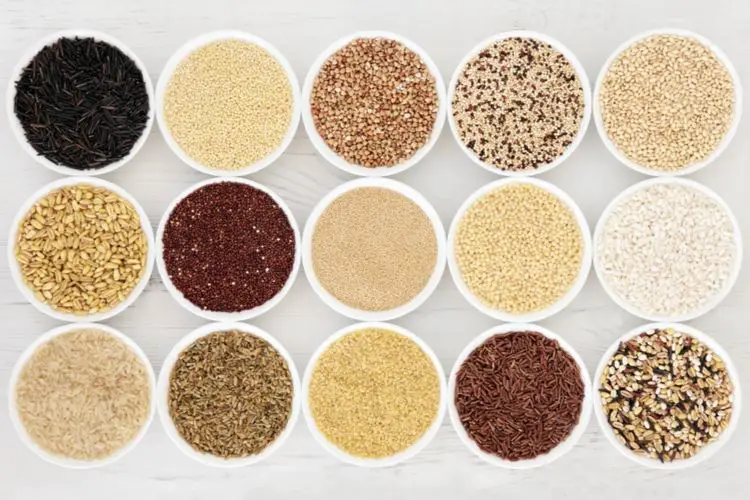 A 1-ounce slice of multi-grain bread contains 1.8 grams of sugar. 
Most plant based foods, like grains naturally contain glucose. Maltose, known as malt sugar is also found in grains, and lactose (milk sugar) if the recipe includes milk. 
Additionally, some bread recipes call for added sugar to enhance flavor.  Sweetener can also be substituted instead of sugar in most recipes. 
Many whole grains are low on the glycemic index, including oats, rye, buckwheat, barley, quinoa, amaranth, and brown rice. These grains have a lower glycemic index (GI) and are better for you.
Gluten in Grains
Individuals with Celiac disease or gluten intolerance may be looking for gluten-free bread and grains.  As long as the bread doesn't contain wheat products like flour, it will be gluten-free.  If you're unsure, always check the ingredients label. 
Cloud bread and almond flour bread are both keto-friendly and gluten-free. 
The following healthy grains are free of gluten and safe to consume if you're gluten intolerant:
Quinoa
Oats
Buckwheat
Corn
Brown rice.