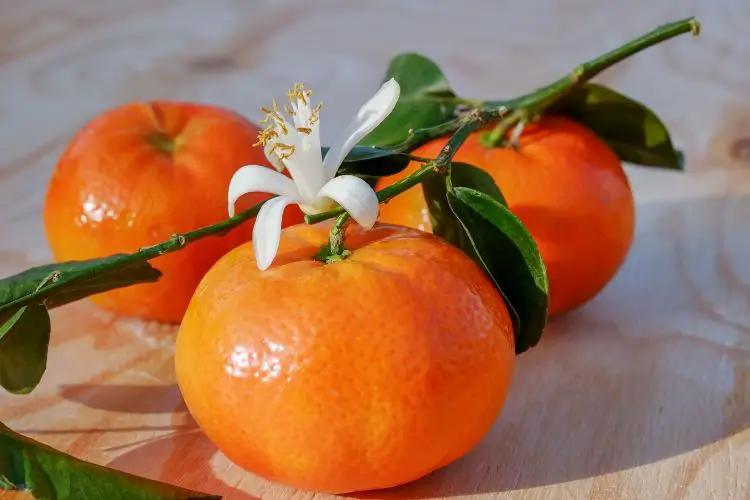 Ultimately, clementines are a healthy fruit in a perfect, pocket-size package and make a convenient snack to take with you on the go.  Their compact size also helps keep portion sizes under control.   You can eat a clementine on its own, add the fruit's segments to summer salads, or whirl one up in your morning smoothie for a sweeter take on orange Julius.
Don't let their carb count scare you…  Did you know clementines can actually help you to lose weight?  This amazing, little citrus fruit cam help you shed unwanted inches from your waistline as they contain very low quantities of fats and calories.  Further, the potent flavonoids contained in the fruit combat a number of obesity-related illnesses. 
Clementines may be little in size, but they're big on health benefits! Keep reading to find out all the advantages of this fruit to your low carb diet.
How Many Carbs Are In Clementines?
One clementine (74 grams) contains 9 grams of carbs.
Are Clementines Keto Friendly?
Not only does this tangy citrus fruit make a tasty snack, clementines have a moderate carb count and can fit into a strict low carb diet, like Keto if consumed in moderation.   
How Many Calories Are In Clementines?
One clementine (74 grams) contains only 35 calories. 
Clementines are considered to be a negative calorie fruit because they contain less calories than what your body requires to burn them.
Nutrition Facts
Serving Size:  1 Clementine (74 grams)
Calories 35
Total Fat 0.1 grams
0%
Sodium 0.7 milligrams
0%
Potassium 131 milligrams
3%
Total Carbohydrate 9 grams
3%
Dietary fiber 1.3 grams
5%
Sugar 7 grams
Protein 0.6 grams
1%
| | | | |
| --- | --- | --- | --- |
| Vitamin C | 60% | Calcium | 2% |
| Iron | 0% | Vitamin D | 0% |
| Vitamin B-6 | 5% | Magnesium | 1% |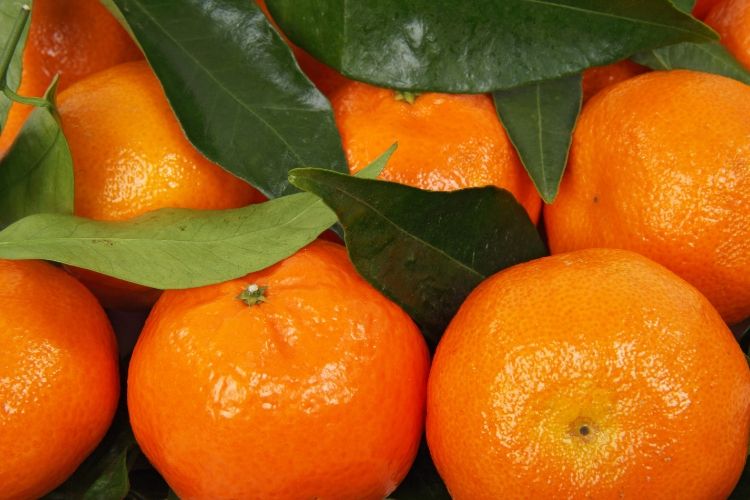 Health Benefits
Overview
A clementine is made up of 87% water to help keep your body hydrated.  Clementines are also rich in potassium which balances out electrolytes.  Not only are they low in calories and extremely low in fat, clementines are an excellent source of vitamin C, containing 59% of the daily recommended value in just one serving.
Strengthen the Immune System
Eating clementines regularly improves your body's immunity to viruses that cause illness. The high dose of vitamin C naturally found in clementines works as an antioxidant in your body to repair the damage caused by free radicals.
Boost Mood and Supports Brain Function
Clementines are high in folate which improves brain health.  It is an important supplement for pregnant women to minimize neural tube defects in the fetus while in utero.  Certain compounds found in this fruit can also relieve depression and put you in a good mood.
Healthy, Youthful Skin
The vitamin C content of clementines assists the synthesis of collagen in your body, a crucial element in maintaining healthy skin and restoring elasticity. The antioxidants in clementines protect skin against UV damage from the sun's harmful rays, rejuvenating skin cells and reversing the fine lines and age spots to keep your complexion looking young and radiant.
Builds Strong Muscles
Clementines are also rich in calcium and phosphorus, minerals that strengthen muscles and aid muscle contractions.
Healthy Bones and Teeth
Clementines provide a dose of calcium and phosphorous, two compounds necessary for building strong bones and teeth.  The vitamin C content of clementines help keep your gums pink, while preventing bleeding gums and gingivitis. 
Anti-Cancer Properties
Clementines are packed with antioxidants and vitamin C to prevent cellular mutations. These antioxidants include limonoids, quercetin, and pectin which helps protect against various forms of cancer.
Promotes Heart Health
Clementines are high in potassium which regulates the cardiovascular system and prevents cardiovascular disorders like arrhythmia or irregular heartbeat.  The potassium in this fruit also reduces high blood pressure.
Supports Digestive System
Because clementines are rich in fiber and water, they promote healthy digestion and may help relieve constipation.   The potassium contained in clementines regulates muscle contraction and also assists in bowel movement.  In addition, fiber helps your body absorb the nutrients from other foods.
Side Effects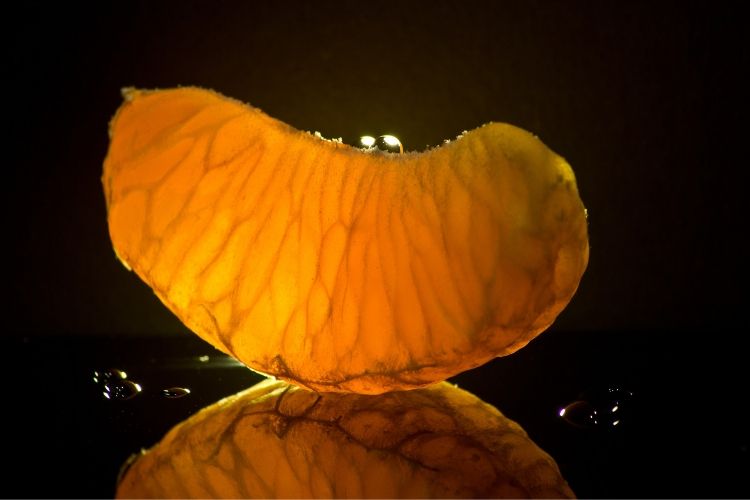 When consumed as part of a balanced diet, clementines are safe for most people in regular food amounts.  However, eating too many clementines may cause symptoms like irritation of the mouth, throat and esophagus.
Clementines are classified as acidic fruit, which may cause symptoms such as, tooth enamel erosion and acid reflux.
Some medications can lose efficacy when combined with certain citrus fruits, including clemintines. Recent studies show that clementines may interact with certain medications in a manner similar to grapefruit.  Always check the pharmaceutical informational pamphlet that comes with your medication when you pick up your prescriptions to ensure look out for potential interactions.
Individuals who are allergic to oranges will likely also be allergic to clementines.
Spinach and Feta Salad with Clementines Recipe
Ingredients:
1 tangerine, peeled and segmented
1/2 head of baby field greens, washed and chopped
Handful of baby spinach, washed
Handful of walnuts, chopped
Feta or goat cheese, crumbled
2 tablespoons olive oil
1 tablespoon balsamic vinegar
Pink Himalayan sea salt (to taste)
Fresh ground black pepper (to taste)
Your favorite fresh herbs (to taste)
Instructions:
Combine greens and spinach in a large bowl and toss with olive oil, herbs and balsamic vinegar.
Taste and adjust seasonings.  You can add your salt and pepper at this stage, if you wish.
Top with crumbled goat cheese and tangerine segments.
Ready to serve and enjoy. 
This recipe makes 2 large salads or 4 side salads.
Fiber in Clementines  
One clementine contains 1.3 grams of dietary fiber.
Sugar in Clementines
One clementine contains 7 grams of natural sugar (fructose).
Related Questions:
What's the Difference Between a Clementine and a Tangerine?
To answer succinctly, these fruits look the same from the outside.  You can tell the difference lies in the taste and the rind. 
Clementines are sweeter and easy to peel cleanly.  Tangerines, on the other hand, are more tart to the taste and tougher to peel, leaving behind more of the white skin pulp on the fruit.
Are Clementines Safe for Diabetics?
A recent study concluded that clementines may be able to lower the risk of type 2 diabetes.  This citrus fruit is high in both vitamin C and folate, nutrients that improve blood sugar control in diabetics.
Clementines have a glycemic value ranging from around 30 to 40 on the Glycemic Index.  Because of their fructose and fiber content, clementines, along with many other whole fruits won't negatively impact blood sugar. 
Are Clementines Good For Weight Loss?
Canadian researchers have found that the flavonoid profile in clementines may help combat obesity.
Interestingly, the flavonoid Nobiletin, which is a type of plant pigment, is thought to be 10 times more effective for weight loss than those found in grapefruit.  
Nobiletin also protected mice in the study from atherosclerosis, the build-up of plaque in arteries, which can lead to a heart attack or stroke.  More research is needed to determine if this is a suitable treatment for metabolic syndrome, but the outlook appears promising.
What is the Best Way to Pick and Store Clementines?
The color of a tangerine doesn't really factor into its taste, so there's no need to distinguish between shades of orange in the peel.
Look for the clementines that are free of blemishes and feel heavy and dense for their size. This means that the fruit is ripe and juicy.  It will likely taste sweeter too.  The lighter feeling ones won't be as sweet or juicy. 
Avoid picking clementines with a broken peel, soft spots, dents, or the appearance of mold.
In order to make your clementines last longer store them in a cool, dry place or in the refrigerator.
When are Clementines in Season?
The peak season for clementines is between December and January, which is why they're often eaten at Christmas time.  Produce is cheaper if you buy it according to seasonality and the quality is usually better, too.