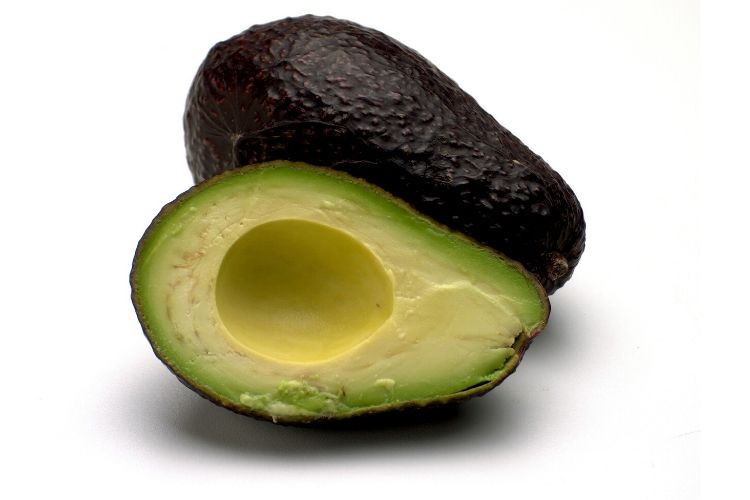 Avocado is a popular fruit that lends a creamy texture to salads and sandwiches, along with a variety of dishes.  For breakfast, it's great sliced on top of toast whisked into egg omelettes or added to smoothies for extra richness.
You can also mash avocados and combine them with other ingredients to make guacamole – a delicious Mexican-style dip.  If you'd like to know how to make your own guacamole at home, I have you covered.  You'll find a delicious recipe for Homemade Keto Guacamole later in this article.
The health benefits of avocados are quite impressive.  To name a few, the stone fruit is known to improve digestion, prevent depression and protect against cancer. 
But that's not all… Avocados are inarguably the perfect staple to have in your pantry if you're on a weight loss journey. Did you know this magical fruit can actually reduce belly fat, lower cholesterol and ultimately help you to lose weight?  Keep reading to find out more…
Is Avocado Keto Friendly?
Avocado makes the list of Keto-approved fruits as it is reasonably low in carbs.  A 50-gram serving contains only 4.5 grams of total carbs, 3.5 of which are fiber, bringing the total net carbs down to only 1.5 grams per serving.  For this reason, you can safely eat avocado on Keto without throwing your body out of ketosis.
How Many Carbs are in Avocado?
A 100 gram serving of avocado (about half of an avocado) contains 9 grams of total carbs. Subtract the 7 grams of fiber per 100-gram serving, and this brings the net carb count down even lower to only 2 grams.  Even if you were to consume a whole avocado, it would only contain 4 grams of net carbs, once the fiber is counted.
How Many Calories are in Avocado?                  
A 100 gram serving of avocado contains 160 calories. A whole avocado contains 322 calories.  Avocado is a higher calorie fruit because of its high content of heart-healthy fat to keep you feeling satiated.  If you're following a calorie-reduction plan, a half of an avocado (or even one quarter) is a good serving size to moderate your calorie intake.
Nutrition Facts
Serving size: 100 grams of Avocado, chopped
Calories 160
Total Fat 15 grams
23%
Saturated fat 2.1 grams
10%
Polyunsaturated fat 1.8 grams
Monounsaturated fat 10 grams
Cholesterol 0 milligrams
0%
Sodium 7 milligrams
0%
Potassium 485 milligrams
13%
Total Carbohydrate 9 grams
3%
Dietary fiber 7 grams
28%
Sugar 0.7 grams
Protein 2 grams
4%
| | | | |
| --- | --- | --- | --- |
| Vitamin A | 2% | Vitamin C | 16% |
| Calcium | 1% | Iron | 3% |
| Vitamin D | 0% | Vitamin B-6 | 15% |
| Cobalamin | 0% | Magnesium | 7% |
Health Benefits
Packed with Nutrients
Avocados are jam packed with vitamins C, E, K, and B-6.  They also contain a good dose of riboflavin, niacin, folate, pantothenic acid, magnesium, and potassium. There are a great source of the antioxidants lutein and beta-carotene.  They also provide omega-3 fatty acids and a good dose of fiber.
Promotes Heart Health
Avocados contain a powerful plant sterol called beta-sitosterol. Regular consumption of beta-sitosterol and other plant sterols has been seen to help maintain healthy cholesterol levels.  The high fiber content of avocados also contributes to the health of your heart.
Anti-Cancer and Anti-Microbial Properties
Folate found in foods like avocados has been associated with a lower risk of cancer. Folate is known to protect against dangerous mutations in DNA and RNA that can occur during the process of cell division.
The phytochemicals in avocados may even play a role in cancer treatment by inhibiting the growth of cancerous cells and even kill existing cancer cells.
Additionally, avocados contain substances with antimicrobial properties to protect against bacteria, such as E. coli.
Strengthens Bones
You'll get 50% of the daily recommended intake of vitamin K from consuming a whole avocado.  Vitamin K is an important vitamin for bone health by improving calcium absorption and reducing calcium loss through the urine.
Additionally, substances called saponins, found in avocados were found to relieve the symptoms of osteoarthritis.
Boosts Mood
Foods that contain high levels of folate, like avocados, may help prevent depression, as folate helps prevent the build-up of homocysteine, an amino acid that at high doses impairs circulation and nutrients in the brain.
High levels of homocysteine also inhibit serotonin and dopamine production.  Eating avocados can lower homocysteine, which regulates mood.
Supports Healthy Vision
Avocados contain powerful phytochemicals called lutein and zeaxanthin that are concentrated in the tissues of the eyes to minimize damage from UV sun rays.
The fatty acids in avocados also support the absorption of other important fat-soluble antioxidants, like beta-carotene.  Adding avocados to your meal plan can also lower your risk of developing age-related vision disorders like macular degeneration.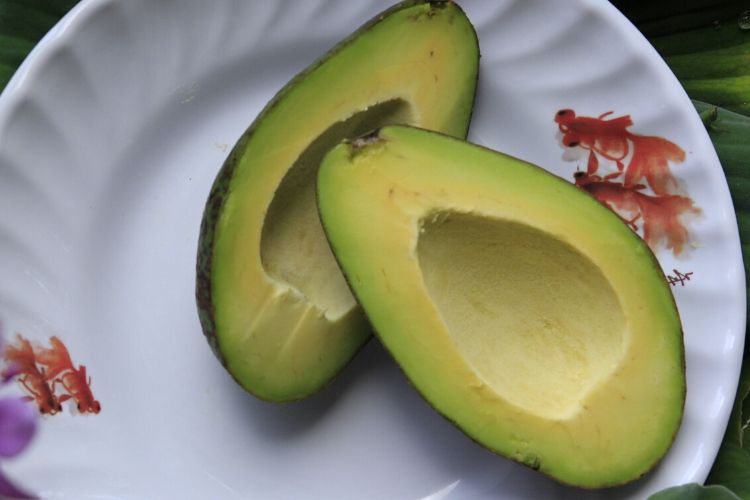 Side Effects
Avocado is generally safe in normal food amounts.  However, if you are taking blood-thinning medications, such as Warfarin, it is important that you limit foods containing high amounts of vitamin K, to prevent blood clotting.
10 Ways to Enjoy Avocado on Keto
Add sliced avocado to burgers, but skip the bun.
Add diced avocado to soups and salads.
Spread avocado on toast instead of butter.
Use avocado in place of mayonnaise in chicken or egg salad.
Mash avocado and combine it with other ingredients to make guacamole and serve with low carb tortilla chips.
Add avocado to Mexican dishes, tacos and burritos.
Use avocado in your sushi for a delicious vegetarian California roll or pair it with smoked salmon.
Add avocado to the blender with other fruit and veggies for a thicker, creamier smoothie.
Spread avocado on sandwiches and wraps using low carb bread.
Add avocado to eggs, scrambles, and quiches.
Homemade Keto Guacamole Recipe
Ingredients:
1 ripe avocado
¼ of red onion, grated or minced
¼ of a lime, juiced
½ of a tomato, diced
1 tablespoon of olive oil
2 tablespoons of fresh cilantro
1 small garlic clove, minced
Pink Himalayan sea salt and fresh ground black pepper, to taste
Instructions:
In a medium-sized bowl, peel and mash the avocado with a fork.
Add the onion, olive oil, cilantro, garlic, lime juice, and tomato.
Season to taste with salt and pepper and stir well to combine all the ingredients. Garnish with a sprig of fresh parsley and serve.
Related Questions:
Is Avocado Good for Weight Loss?
If you're trying to lose a few pounds, avocados make a great addition to your diet. Because weight loss requires eating fewer calories than you burn off, it is wise to eat low-calorie foods.  
A 50 gram serving of avocado contains only 80 calories, which fits into a calorie-reduced meal plan. As long as you consume avocado in reasonable quantities, it can be an effective weight-loss food.
Avocados are also high in fiber, which is also linked to lower body fat and smaller waist circumference. The Department of Internal Medicine and Nutritional Sciences Program of the University of Kentucky has linked adequate fiber intake with lower blood pressure, improve insulin sensitivity and weight loss in obese individuals.
What's more, avocados have been proven to lower cholesterol and even burn belly fat.  Now that's what I call a "triple threat" against the battle of the bulge!
How Can I Tell When an Avocado is Ripe Enough to Eat?
You can easily tell if an avocado is ripe by gently pressing into the skin. If the flesh feels firm and does not budge, you will need to let it ripen for a few days before eating. Softer avocados make better guacamole, while firmer avocados are great for slicing into a salad or sandwich.  
You can speed up the ripening process by place the avocado on your window sill or putting it inside a paper bag along with a banana.
Is Avocado Safe to Eat During Pregnancy?
Because avocados are an excellent source of folate, they are an ideal food for mothers-to-be to consume during pregnancy.  Folate is extremely important for a healthy pregnancy, as adequate intake of this nutrient reduces the risk of miscarriage and neural tube defects in the fetus.
According to research conducted by McGill University, there was a 30% higher incidence of birth defects in the offspring of mice conceived with sperm from folate-deficient male mice.          
Furthermore, when infants are ready to eat solid foods, the soft texture of mashed avocado makes it a wonderful baby food that is both nutritionally-balanced and mild-tasting enough for your little one's palate.
Is Avocado Oil Healthy?
In short, most of the fat contained in avocado oil is heart-healthy.  Avocado oil is the natural oil extracted from the avocado.  
Approximately 70% of avocado oil consists of heart-healthy oleic acid, a monounsaturated omega-9 fatty acid.  However, it does contain a small percentage of unhealthy fats made up of about 12% saturated fat and 13% polyunsaturated fat. 
Cooking isn't the only good use for avocado oil, however. This natural oil can also be used to moisturize your skin or hair.